Multigrain, Whole Wheat Baking Mix Recipe – Like Bisquick
We have used this multigrain whole wheat baking mix recipe (Bisquick substitute) non-stop to create the tastiest waffles, pancakes, biscuits, and even chicken pot pies! All that with no added chemicals, fillers, or preservatives. Here is an excerpt and some pictures from my post.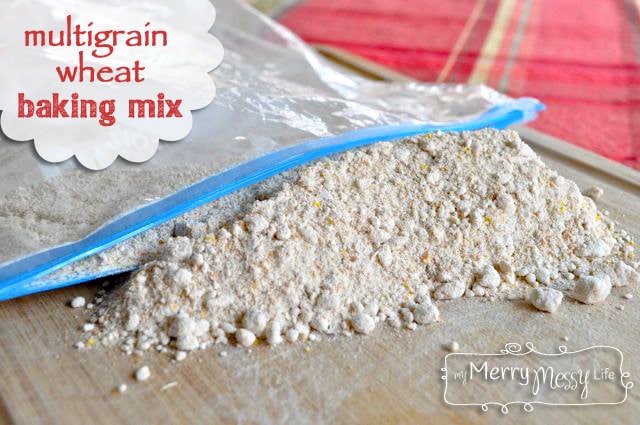 Bisquick is Convenient But Offers Little Nutrition
It bothers me that there isn't much nutrition in Bisquick, and it has some weird filler ingredients I'd rather my family not be eating. Once again, making something myself is healthier and cheaper, so here I go!
Using a Grain Mill
And now I've obtained this fabulous kitchen gadget – the WonderMill Grain Mill. I've been anxious to use it to make my own whole wheat version of Bisquick, then came up with the idea to take it a step further and add 10-grain cereal to it after mastering my Multigrain Wheat Bread Recipe.
I bought my whole wheat seeds on Amazon in bulk, and have steadily worked my way through the bags already with just a few recipes! To add the 10-grain cereal to the baking mix recipe I found at Fat Girl Trapped in a Skinny Body, I researched how to use it and found on Bob's Red Mill site (which is the type of cereal I bought) that you must reduce the flour by 20%. So, I've written up a recipe that includes that change and created recipes for blueberry waffles and chicken pot pie!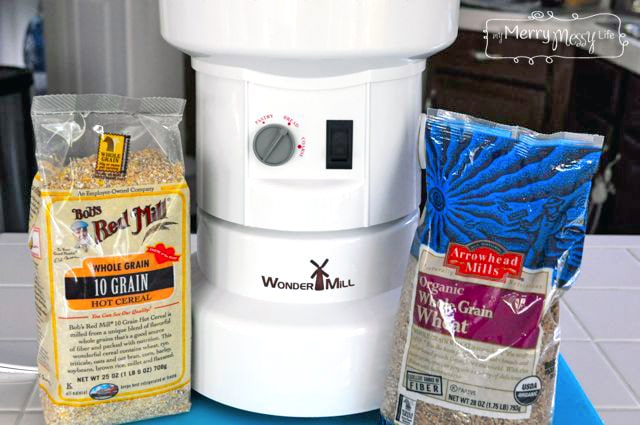 Before you make this multigrain whole wheat baking mix, be sure to grab your best-looking, cutest, sous-chef to help you grind your wheat. It makes the process so much more fun!
Gabe is a little bit scared of the Grain Mill while it's on, so I let him pour in the whole grain before I turn it on, then he scoots back and cautiously watches it work! If his little brother is nearby, he gets scared that he'll get hurt, so I work to keep them both happy while it runs.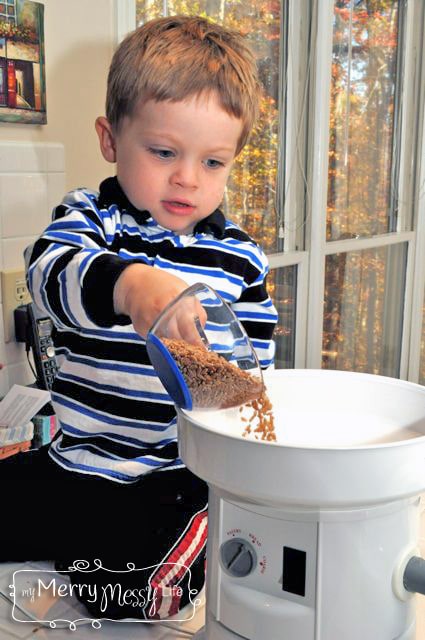 Why Grind Your Own Flour?
So why grind your own flour when it's so much faster and easier to buy it already done for you? Simple. It's WAY more nutritious!
"Grains are the seed-bearing fruits of grasses. The fact that grains are the seeds of the plant as well as the fruit and that life-giving nutrients are contained and perfectly stored within, make grains an incredibly nutritious food. In fact, of the 44 known essential nutrients needed by our bodies and naturally obtained from foods, only 4 are missing from wheat–vitamin A, B12, and C, and the mineral iodine." – Sue Becker (Source)
Grinding Your Own Flour is Way More Nutritious
When you grind your own wheat, you are eating the germ, endosperm, bran and the hull. All of the nutrition is in the bran and the hull, and companies remove them in order to preserve shelf life and make fluffier bread. Even breads that say they are whole wheat are usually imposters, check with the company website to see if they are using the entire wheat berry and grinding it to see if they're telling the truth or not!
Use this Recipe Just Like Bisquick!
I've used the recipes on the back of my Bisquick Mix box to make quite a few things from this multigrain whole wheat baking mix recipe, but tweak them a bit by not adding any oil, since the butter/margarine adds the oil needed. Of course, you can just buy a bag of whole wheat flour if you don't have a grain mill but again, it won't be as nutritious!
Print
Multigrain, Whole Wheat Baking Mix Recipe – Like Bisquick
Multigrain whole wheat baking mix recipe – just like Bisquick but way more nutritious! This makes for a large recipe, but we use it so often now that it works well for my family of four. The recipe can be halved and frozen.
Instructions
Mix all the dry ingredients in bowl. Then, using a cheese grater, grate the butter into the mix. Stir well and store in an air-tight container in the fridge or freezer until you're ready to use it!