Natural Ways to Kill Ants and Pests
Here are two natural ways to kill ants and fleas that are also ecofriendly and safe for children and pets. Today we're talking about how to use club soda and diatomaceous earth to kill ants and fleas. And while they kill the pests, they don't harm other wildlife, the environment or your garden plants.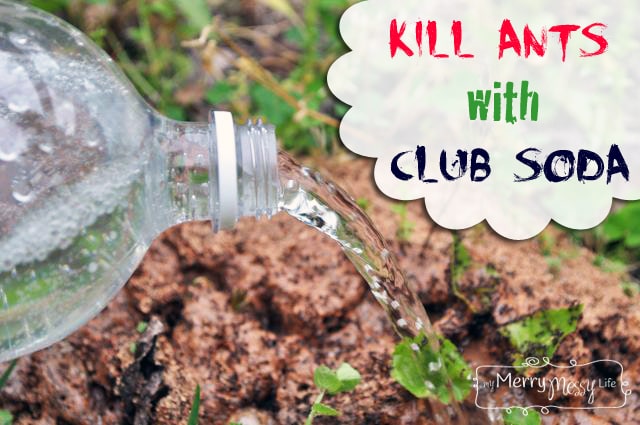 When we first moved into our new house this spring, my kids were out playing in the driveway and they started to scream. I went running over to see my son's legs covered in little black ants and then saw a huge ant pile next to him. Thankfully, some apple cider vinegar anti-itch rub helped the swelling and itching, but I knew I had to take care of the ants. Of course, it had to be a natural solution because I don't want to spray poisonous chemicals on the ground, which only contributes to harming the environment, animals, and us humans.
Natural Ways to Kill Ants – Club Soda!
I discovered that club soda works because the carbon dioxide from the carbonation displaces the oxygen in the colony, suffocating the queen, which eventually kills the whole colony.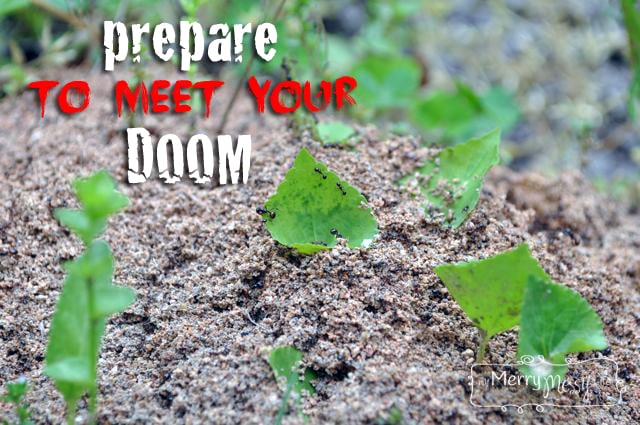 Using Club Soda on Ants is Really Easy
For one medium mound, you need about 1/2 liter of club soda (carbonated water). For a large one, I'd use a whole liter.
Pour directly onto the mound – I poured all over the entire mound and not just in the center as it was suggested to me. I generously poured it on, since it's cheap and non-toxic.
It takes about 2 full days for it to all die. One very large pile I had needed an extra dose of soda, and that did the trick. Once it dies, it will just be a mound of dirt, then grass or weeds will start to grow on top of it. I can't even tell where the mounds were a month later!
I read on several sites that it doesn't work to kill fire ants. I'd like to disagree – at the very least it displaces them. I found that their colonies are harder to kill than black ants BUT I did finish them off with my magic powers club soda. It took two rounds and a liter and a half, but they did go away.
Now my kids can play without getting bitten by nasty little ants and no eco-systems, other insects, animals or humans were poisoned to accomplish that. Plus, for about $1 a liter, it's also cheap!
Diatomaceous Earth as Pest Control to Kill Fleas
Many readers have reported to me that Diatomaceous Earth works to kill ants as well! I have not used them on ants, but I have used them to kill fleas.
What Is Diatomaceous Earth?
Diatomaceous earth is made up of tiny fossilized diatoms (plankton) that have accumulated over millennia in fresh water lakes. These pure deposits are mined and ground into a fine powder that is naturally high in silica and other minerals. It is this chalky white powder that we call diatomaceous earth.
Diatomaceous Earth Kills Fleas
We had fleas in our house from our cat that were living in the carpets. We have four kids and the the fleas were in three of their rooms! Thankfully, this was in the summertime so I had them all bunk in one room while I treated the other rooms.
I sprinkled the DE all over the carpets and let it sit for a day, then vacuumed it up. I repeated the process a week later to make sure I killed the eggs that had just hatched and got through the whole flea life cycle. Two weeks later, the fleas were finally gone. Then, I had to move the kids back into the other two rooms and treat that last room.
I did find that the powder was quite irritating on my skin (baking soda also does that to me) so I used rubber gloves. I also put the DE in an old spice container like I do for my baking soda scouring scrub.
See more of my non-toxic gardening solutions, like my all-natural weed killer, here!