No Yeast Bread Loaf Recipe
Here's a simple and delicious no yeast bread loaf recipe that doesn't have to rise! If you're out of yeast, don't like using it, or can't find any at the store, this recipe is for you. I also include ways to add more nutrition to your bread by using Einkorn flour or by using freshly milled flour.
I Made This Bread to Go with Soup – YUM!
So, while my Potato Artichoke Cream Cheese Soup was cooking yesterday, I wanted to go to the store to buy some crusty French bread. But, that's no easy task in this family two kids under the age of three and ice raining down outside! So, I got creative. I didn't have yeast, so I looked for a bread recipe without it and found a really simple one that makes a delicious loaf of bread. I'd rather make it this way because it's so easy – you don't have to wait hours for it to rise. The baking powder and soda react right away with the water and the bread rises in the oven on its own.
I Love to Bake with My Kids
My son, Gabe, loved "digging" in the dry ingredients with a measuring cup, so an added bonus was that we enjoyed yet another baking experience together. We talked about how many cups of each ingredient goes in, and learned about the oven and how hot it gets at 400 degrees. More memories I'll think of when he's grown and I'm missing his pudgy cheeks and mispronounced words.
Print
No Yeast Bread Loaf Recipe
A no yeast bread loaf recipe that's easy to make and super delicious!
4 cups

all-purpose flour (I used half whole wheat, half all purpose, but you can also use gluten-free, Einkorn, or any flour you desire)

1 tablespoon

sugar, double this amount if desired for a sweeter bread

1 1/2 teaspoon

baking powder (I like to use aluminum free)

1 1/2 teaspoon

baking soda

1 1/2 cup

water, room temperature

2 teaspoons

vinegar (Apple Cider or white)

1 tablespoon

butter, melted (to brush on after it's baked)
Optional – 1 tablespoon Herbs de Provence
Instructions
Preheat the oven to 400 degrees F.
In a bowl, stir together the flour, sugar, baking powder, and baking soda. In a 2-cup measuring cup, combine the water and vinegar. While stirring, add the water mixture to the flour mixture. Stir the mixture until a dough forms.
Turn the dough out onto a floured surface. Knead the dough for 2-3 minutes to make sure all the ingredients are incorporated.
Put the dough in a bread loaf pan, two pans might be needed. Put an "X" or "#" on top of the loaf.
Place the pan in the oven and bake at 400 degrees F for 30-40 minutes or until golden brown and the crust is firm. If desired, brush the top of the loaf with milk halfway through the baking time for a softer crust.
When the bread is done, remove it from the oven and while still hot brush it with the melted butter. The butter adds flavor as well as softening the crust.
This recipe calls for just plain ole flour, but I wanted mine to be a smidge healthier, yet still fluffy, so I did 2 cups of All Purpose Flour and 2 cups of Einkorn. Why Einkorn? Read more below.
The Truth About Modern Day Wheat
You can use any flour you'd like for this recipe, but I like to use freshly milled flour and/or Einkorn flour. I use a grain mill to mill my flour and buy Einkorn berries from Amazon.
Modern day wheat is wrecking havoc on the health of many Americans. Why? It is sprayed with massive amounts of pesticides so we are literally getting small amounts of pesticides with every bite. It has also been hybridized to contain more gluten to create fluffier bread. Wheat from 100 years ago only contained 14 chromosomes of gluten. Today, most commercially grown wheat contains 44 chromosomes of gluten – this is what causes so many people digestive problems and lead them to gluten free, and I was one of them!
Health Benefits of Einkorn Wheat
Einkorn wheat is considered the world's most ancient wheat, and the only wheat that's never been hybridized. Einkorn is a delicious, healthy alternative to modern, mass market wheat and can be an excellent solution for those with gluten sensitivity. It contains 30% more protein and 15% less starch than commercial wheat, and it is abundant in B vitamins and trace minerals like iron.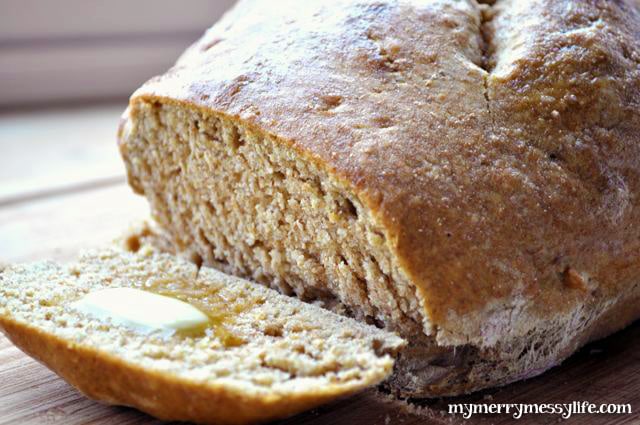 Benefits of Grinding Your Own Wheat
So why grind your own flour when it's so much faster and easier to buy it already done for you? Simple. It's WAY more nutritious!
"Grains are the seed-bearing fruits of grasses. The fact that grains are the seeds of the plant as well as the fruit and that life-giving nutrients are contained and perfectly stored within, make grains an incredibly nutritious food. In fact, of the 44 known essential nutrients needed by our bodies and naturally obtained from foods, only 4 are missing from wheat–vitamin A, B12, and C, and the mineral iodine." – Sue Becker (Source)
When you grind your own wheat, you are eating the germ, endosperm, bran and the hull. All of the nutrition is in the bran and the hull, and companies remove them in order to preserve shelf life and make fluffier bread. Even breads that say they are whole wheat are usually imposters, check with the company website to see if they are using the entire wheat berry and grinding it to see if they're telling the truth or not!
How to Make Grinding Wheat Much Easier
If you're like me, grinding your own flour can sound like a PITA ? or like we are back to our pioneer days! So to make it much easier, I like to grind my wheat in large batches and freeze what I don't use. It doesn't have to be thawed out – it stays in a flour consistency.