Get Organized with this Natural Home Recipe Cards Set
These natural home recipe cards set will help you stay organized and keep all of your natural cleaning recipes at your fingertips.
Why These Natural Home Recipe Cards will Make Your Life Easier
Looking Up Recipes Online Can Be Annoying!
I designed this natural home recipe cards set to help make natural cleaning easier. I found that I was always going online to my blog to look up my own recipes and it got annoying! Funny, right?
So I created printable recipe labels and these recipe cards to make refilling my homemade natural cleaning, laundry, bath, body and beauty products super easy. I'm much more likely to refill bottles when I can easily find the recipe. Are you the same way?
They Make It Easy to go Natural in Your Home
These cards cover pretty much every natural recipe you'd need to get rid of the toxins in your home – all in one place! They include recipes for the kitchen, laundry room, bathrooms, floors, car and even bath, body and beauty products!
Take it step by step and before you know it, you'll have clean and safe products filling your home that you made yourself and are very affordable! You can see all of my natural cleaning recipes here, and natural laundry recipes here.
★ Get 10% OFF this order instantly! ★ Click here to grab your free coupon!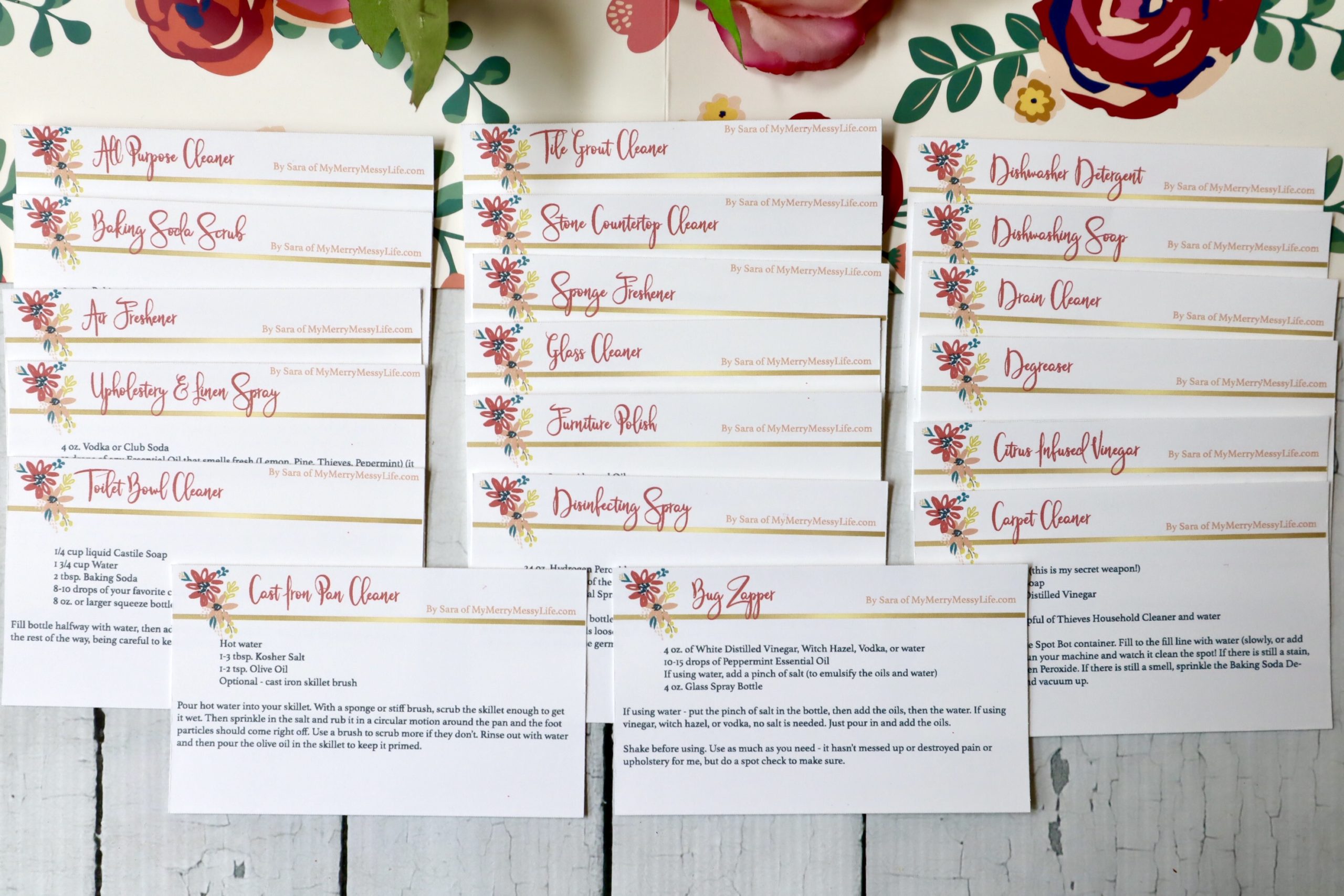 What's Included in This Set
The recipes included in this natural home recipe cards set are: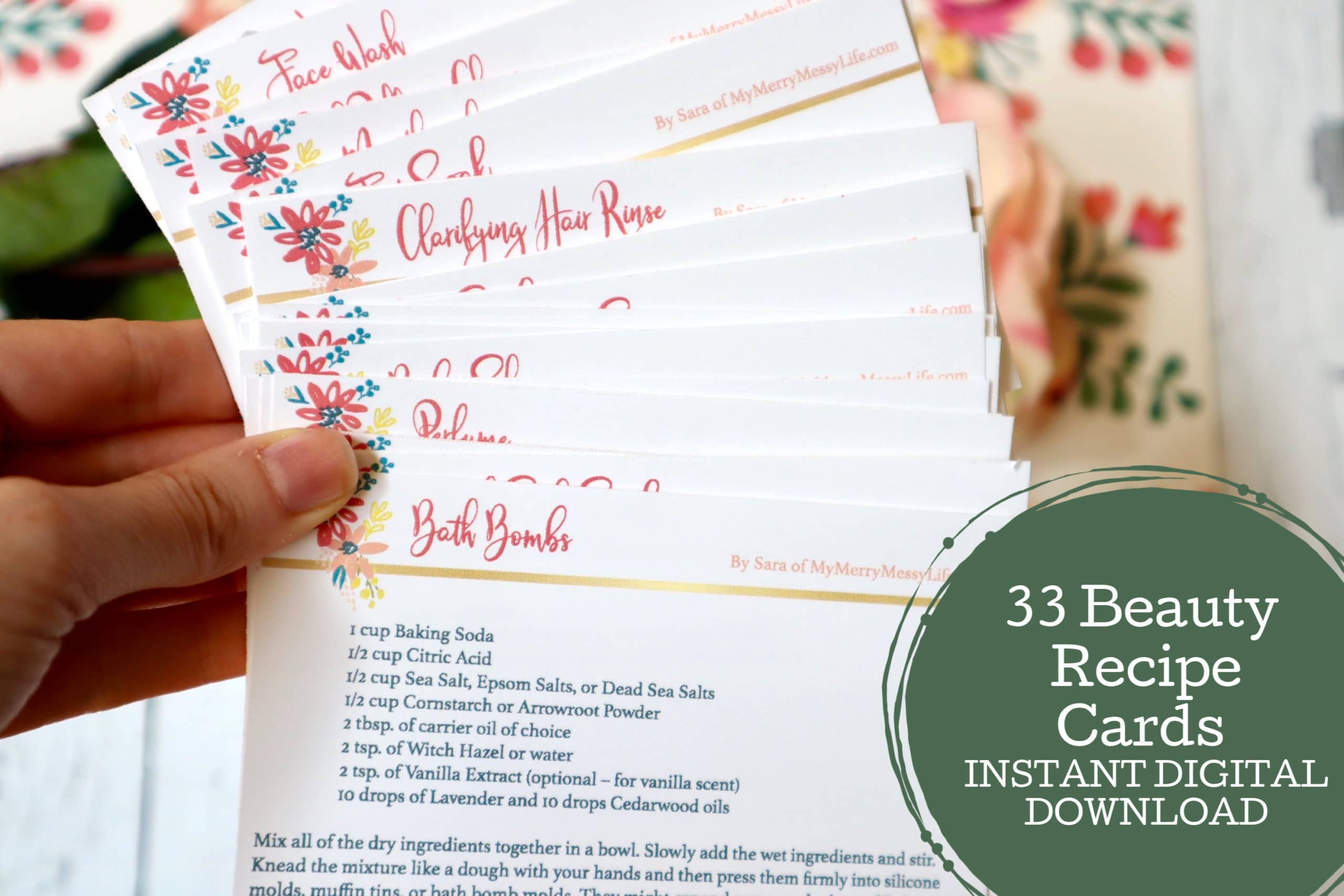 36 Bath, Body and Beauty Printable Recipe Cards
(33 recipes + 3 blank ones)
Baby Shampoo
Bath Bombs
Bath Salt Soak
Body Butter
Body Wash
Clarifying Rinse
Diaper Rash Cream
Deodorant (Easy)
Face Toner
Face Mask
Face Wash
Feminine Oil
Flax Seed Gel
Fresh Breath Spray
Foot Soak
Foaming Hand Soap
Hair Protein Treatment
Hand Purifying Spray
Healing Scalp Serum
Lash Growth Serum
Lip Balm
Mouthwash
Oil Cleansing Method
Oil Pulling Chews
Perfume
Rice Water Protein Rinse
Roll On Deodorant
Shower Steamers
Sugar Scrub
Sunburn Relief Spray
Sunscreen
Tooth Whitener and Cleaning Powder
Toothpaste
34-36 – Blank recipe cards you can customize!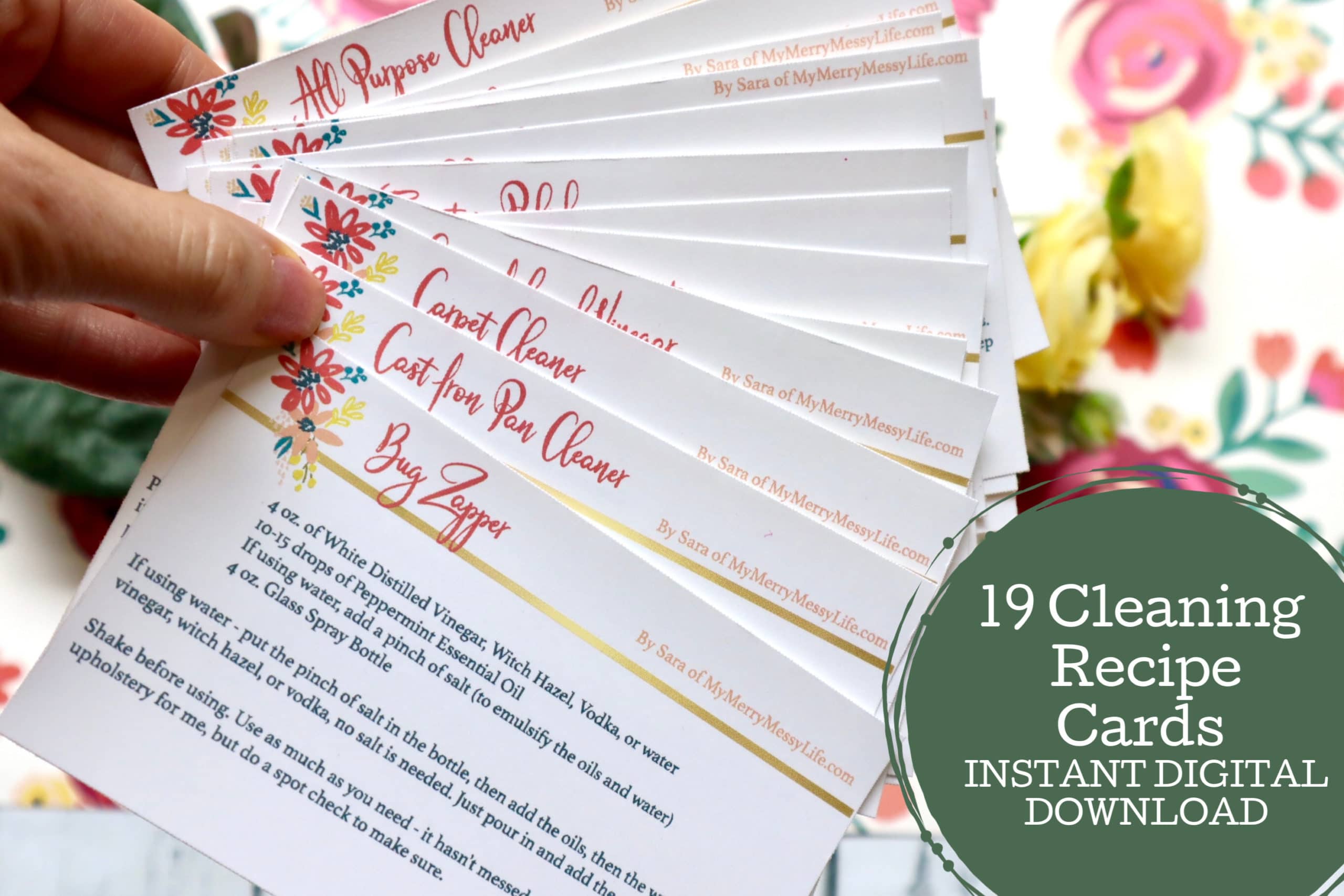 24 Cleaning Recipe Cards
(19 cards + 5 blank ones)
All Purpose Cleaner
Air Freshener
Baking Soda Scrub & Deodorizer
Bug Zapper
Cast Iron Pan Cleaner
Carpet Cleaner
Citrus-Infused Vinegar
Degreaser
Drain Cleaner
Dishwashing Soap
Dishwasher Detergent
Disinfecting Spray
Furniture Polish
Glass Cleaner
Sponge and Brush Freshener
Stone Countertop Cleaner
Tile Grout Cleaner
Toilet Bowl Cleaner
Upholstery & Linen Spray
20-24 – Blank recipe cards you can customize!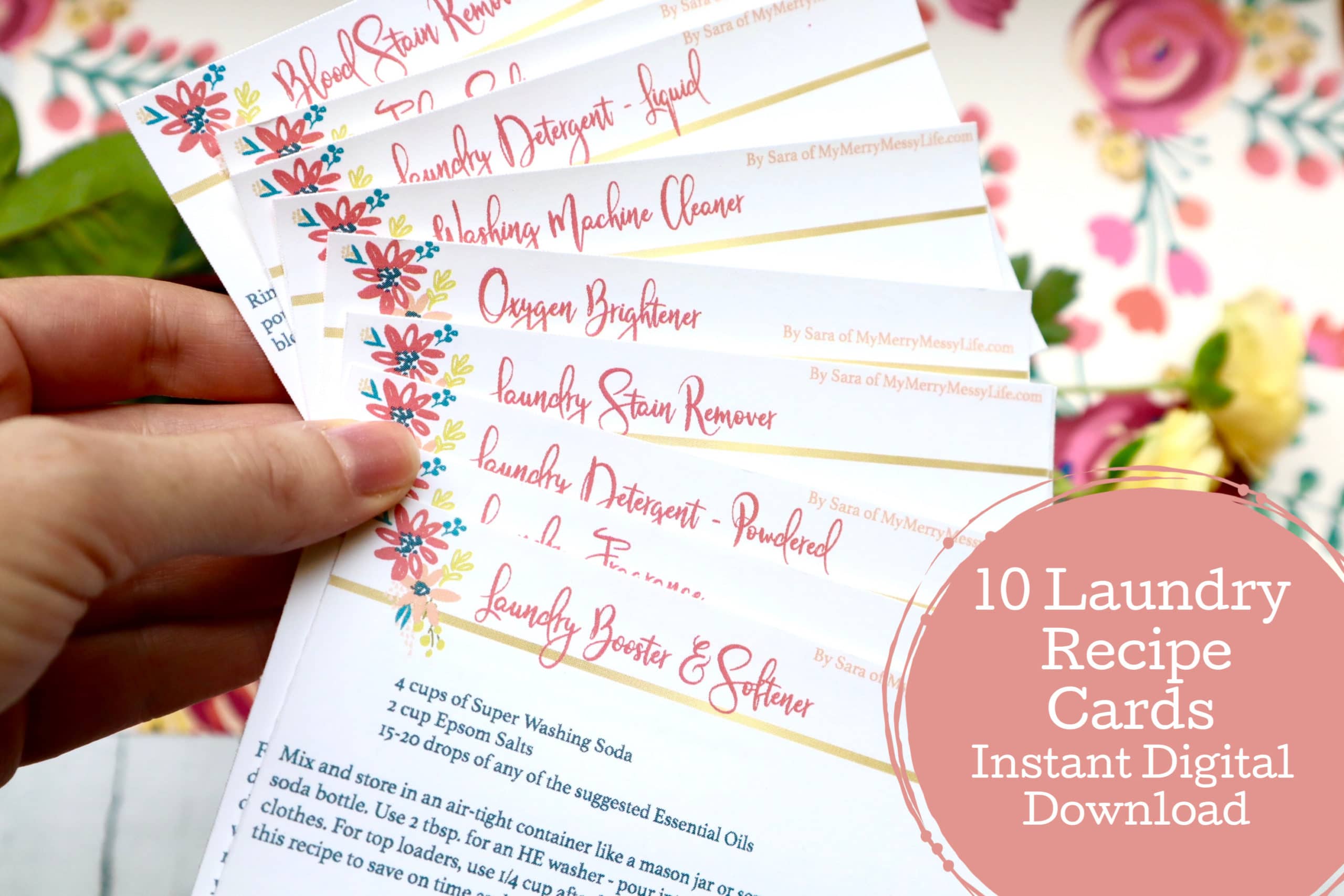 15 Printable Laundry Recipe Cards
(10 recipes + 5 blank ones)
Laundry Detergent – Powdered
Laundry Detergent – Liquid
Laundry Fragrance
Static Cling Remover
Fabric Softener
Front Loading Washing Machine Cleaner
Fabric Stain Remover
Blood Stain Remover
Laundry Booster and Softener
Oxygen Brightener
11-15 – Blank ones you can customize or even take pretty notes on!
Shopping List
This guide also includes a shopping list with ingredients to purchase on Amazon like shea butter, Castile Soap, essential oils, coconut oil, Bentonite Clay and more! Also included is a complete container list in which to store your products. All you need to complete this set are cute labels to slap on those new products!