The Magic and Reality of Dr. Bronner's Castile Soap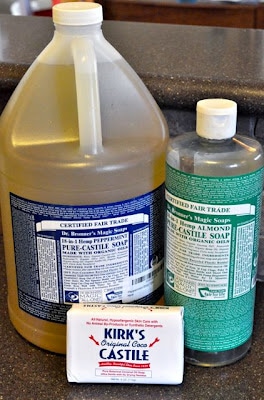 On my mission to make my house green and non toxic, I came across chatter on the web about the wonders of Castile Soap, specifically, Dr. Bronner's Castile Soap. I was intrigued because my mom says my grandmother used to use Castile Soap to wash her delicate clothes back in the 50's and 60's, and it is made from either Coconut Oil or, if it's pure Castile Soap, made from Olive Oil and contains no sulfates or harsh synthetic detergents. I have very dry skin and have always had to fight off eczema, especially in the winter time, so I knew it was something I wanted to try. I read that there are many uses for the soap – an ingredient in homemade cleaning products, homemade laundry detergent, hand soap, body wash, shampoo and more. I thought it must be too good to be true, but I was feeling optimistic at the time, and decided to buy a whole GALLON from Amazon for $50.
Are the claims right? Some of them are. It's my new favorite under-the-sink house and body cleaning tool. First of all, you can buy Dr. Bronner's on Amazon and other sites, and also at your local health food store and even at Target! I found Amazon's prices to be the cheapest, and even got free shipping with free super saver shipping (but had to be very patient as I waited for a week for it come in – it was a long week!). I read a gallon could last 6 months to a year, depending on how you use it. I think mine will last a year or longer!
Dr. Bronner's is so cool because it comes in many different scents – Lavender, Almond, Peppermint, Tea Tree Oil , Eucalyptus, Rose, and Citrus. It also comes in Baby Mild to use on your baby. I've used Peppermint, Almond, and Lavender. Surprisingly, I did not like the almond scented one for cleaning products. I love the peppermint one for laundry and cleaning products, and the lavender and almond for beauty care (body wash, hand soap).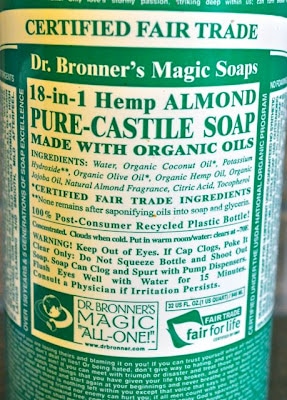 Once you get your bottle, you might take a moment to read the text that's written ALL over it, like "Absolute Cleanliness is Godliness! Teach the Moral ABC that unites all mankind free, instantly 6 billion strong & we're All-One. Listen Children Eternal Father Eternally One!" Apparently, Dr. Bronner thought he was God's prophet for making soap, and he was in a mental hospital for a while, however, he was a victim of the Holocaust, so he can write whatever he wants to! His children put all of his sayings on the bottles to commemorate their father. It might scare off a newbie to green cleaning, but it made me feel like a renegade hippie! If you're the really curious type, you can watch a mini-movie about him.
But, you don't necessarily have to buy Dr. Bronner's Castile Soap. There are many other companies that make it, but I love that this one is made from all organic ingredients and is fair trade. Double bonus. Plus, the company is really hippie-dippie in a very cool way – they speak out against injustice around the world and are very environmentally conscious.
Here's how I use my Dr. Bronner's:
Everyone in my house (there are 5 of us) uses Dr. Bronner's to wash our birthday suits. It's very gentle and doesn't strip the skin's natural sebum.
I use about 7/8 filtered water and 1/8 Castile Soap in my hand soap, although you can use more if you like it. It suds up really well, even with this little. Add 20-30 drops of Tea Tree Oil to make it antibacterial soap (where to buy high quality essential oils).
I use it as an ingredient in a homemade household cleaner. I got the recipe from the book, "Clean House, Clean Planet" and wrote a post about it! You can also use it in a very diluted form to mop the floors and clean other surfaces in the house. When mixed with baking soda, it makes a great cleaner in the kitchen to use on countertops.
Castile Soap works really well to clean nasty toilet bowls! Click on the link for my recipe.
This is one of my favorite ways to use Dr. Bronner's. I use only a 1/2 cup in 2 gallons of detergent, so it goes a long way! It makes detergent SO cheap and it just makes it even better that it's green! (More on that coming soon!)
An Overnight Dish Cleaning Soak
Dr. Bronner's is AWESOME at getting hard water stains, stuck on grease and food off the bottom of pots, pans, glassware, and baking dishes. I just squirt enough straight out of the bottle to cover the bottom of the pot or pan and let it sit overnight. The next morning I rinse it out and voila! Every time I've done it the stains are completely gone!
Shampoo with Essential Oils
A very gentle way to wash your hair with no sulfates or chemicals!
The Not-So Magical Side of Dr. Bronner's
We tried it as a dishwashing soap to hand wash dishes in the sink but didn't like it at all (the liquid version). It doesn't create any suds and I had a hard time getting grease and food off of the dishes. Now, it would work if left to soak for several hours or overnight. Green cleaners like this one just take longer to work, but I don't always have that kind of patience! I have seen recipes where it was used successfully grated and melted on the stove.

SaveSave