A Mama's Buying Guide to Newborn Baby Gear Essentials
From one mom to another, here are all the products I can personally recommend for mothers of newborns or expecting mamas!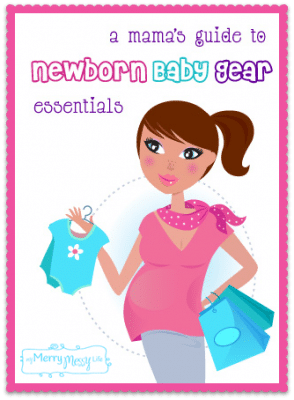 If you were like me when I was pregnant with my first, I was totally overwhelmed with what I needed to buy for the creature that was making my belly quite round (not to mention a few other parts!). Reading through review after review made me go cross-eyed and I found that what I really wanted and trusted were the opinions of other moms. So, now that I've been around the block a few times as a mom of three boys, I thought I'd share with you my list of favorite stuff that has made the first three months (also known as the fourth trimester for a very good reason), much easier to survive – from one mama to another. I have not been solicited by any of these brands to review their products – they are all ones I've actually used and like.
It's amazing how much STUFF a very tiny person needs, isn't it? These are the items we've used with all three babies – items I just don't want to live without! If you're pregnant, check out my Pregnancy Survival Guide. And if you plan to breastfeed or are currently, here are my recommended products for nursing!

Baby Swaddling and Wearing
SwaddleMe Blankets
These handy swaddle blankets ROCK (where to buy). All four of our newborns have loved to be swaddled for the first few months and these blankets make it so much easier to wrap them up and keep those little arms contained. We have used several different brands but keep coming back to this one because it fits from brand-spankin' newborn to four or five months, and others we tried were way too big at the beginning (even though they say they are for newborns). With these blankets, you can wrap them up like the nurses do in the hospital – they are pros at swaddling!


Moby Wrap Cotton Baby Carrier
I'm crazy about baby carrying and could write a whole post just on that! But for now, I'll say that it's our number one way to calm fussy babies because it works and leaves us hands-free. I've cleaned, vacuumed, cooked, played with the kids, gone for a walk, shopped and much more all while wearing my baby – he's happy, which means, mama's happy!
The Moby Wrap (buy here) is the carrier I use for the first few weeks and months. I have not been so fond of it after my babies get strong enough to propel backwards out of it, which is at about four to six months.
The reason I love the Moby is because it's just a huge piece of cloth, so there's no bulk or buckles and it literally feels like I'm wearing my baby. It's so very ergonomic as it wraps around both shoulders (I can't stand the sling carriers as they do quite a number on one shoulder) and the lower back.
ERGO Baby Carrier
The ERGO is my second favorite baby carrier (where to buy), as it works from newborn (but only with the newborn insert, which is an extra $25) until they are 40 pounds. I bought mine off Craig's List for about $80 and it had never been used, but brand-new, they cost anywhere from $110 (for the black one) upwards of $140 for the designer ones. This one is truly ergonomic and has saved me lots of back pain with two shoulder straps and a large lower back strap. You can also wear the baby in the front, side or back. I can be a bit of a cheap-skate, but this is one product that was worth paying more for.

Sleeping
Rock 'n Play Sleeper
It's so much fun to decorate a nursery and go crib shopping, but at the beginning, we hardly even use the crib or nursery, except as a place to store all of the clothes and other baby stuff. I much prefer to have the babies, especially during the first month, in a bassinet right next to my bed where I can hear his sounds and keep an eye on him.
I will occasionally use the crib in the middle of the day for nap times (when I'm not carrying him). This rock 'n play bassinet (where to buy) we have folds up easily and can be moved all over the house! It also rocks and cradles the baby like when they're in the womb and I've found that all of my babies have loved it!


Fisher-Price Cradle 'N Swing
We have used three different types of swings – one that sits on the floor and swings only front to back, a cradle swing that swings side to side but operates only on batteries, and have finally landed on the Fisher-Price Cradle 'N Swing (where to buy) as it swings back and forth, side to side, has a mobile, music, plugs into the wall or can operate on batteries, and is very ergonomic for the baby. These can be pricey, so I was able to buy one in excellent condition off Craig's List. I'm very happy with it because I no longer have to buy tons of D batteries! Our second son, Grayson, survived his first few months in this swing as that was the only way we could get him to stay asleep. He loved the rocking motion.
Baby Clothing
Sleep Gowns
Like most first-time parents, we bought and were given all kinds of cute outfits and clothes for our baby. These are great for when you're out and about and want to show off your baby, but at home, which is where I spend most of my time for the first few months, it is SO much easier to throw them in a sleep gown or onesie. The simpler the clothing, the better as they go through many clothing changes a day with all that spit-up and dirty diapers. For nighttime, I love using sleep gowns (where to buy) as it makes diaper changing so much easier in low-lighting. Just try snapping buttons or trying to stuff tiny little legs into leg holes in the middle of the night – it's not easy!


Zippered, and not Buttoned, Onesies
Buttoning onesies gets tiresome really fast when one is changing outfits several times a day. I only have a few zippered onesies (where to buy) and swear I'll only buy zippered ones from now on! They are so much easier to deal with, especially in the middle of the night.
All The Rest
FuzziBunz Cloth Diapers
I've been using cloth diapers on an off for about a year now (see my complete cloth diapering guide here) and started off using cheap diapers that cost $5 to $7 a piece. They were great for about a year and a half, but started leaking and have now become almost useless. I've since switched to more expensive and higher quality diapers now that I know for sure I can stick to it and am LOVING FuzziBunz (where to buy) for one main reason – they have adjustable leg openings and and an extra adjustable waist that work for even my 7 pound newborn! In this case, paying more might be better.
Bumble Backpack Diaper Bag
I have bought many different types of diaper bags and my favorite so far is by the brand, Bumble. They make this awesome backpack (where to buy) that's not only SUPER cute for mama, it hangs on the stroller with straps and can be a backpack. I've used it on the stroller countless times and love carrying it as a backpack when I need to as it is out of the way when I'm bending over chasing children around.


Infant Car Seat
We love this infant car seat from Graco (where to buy). It goes from 4 to 40 pounds and is very easily reclinable to move as the baby grows. So far, it's super easy to put in and take out of the car and is really padded for newborns. We've had several other brands, and this is by far my favorite so far!
Snap N Go Infant Car Seat Carrier
Travel systems are everywhere (the huge strollers where you can lock in your infant car seat) but I now shy away from them. For the most part, they are big and clunky and hard to push around and get in and out of the car. I really like this car seat carrier because it is super lightweight and easy to get in and out of the car.
Then, when the baby is older and no longer in an infant car seat, I suggest using an umbrella stroller, like the one from Summer Infant (where to buy). I've used it for two years now with both of my oldest boys and it is so lightweight and great to use while shopping. It must be very comfortable, too, because both of my older boys have fallen asleep in it several times, and they are not ones to fall asleep in public EVER. I swear it's laced with some sleep drug or something!
Gripe Water
I swear by gripe water. I can't tell you how many countless times it has worked instantly to calm my fussy babies, especially when they're having some reflux, gas or spit-up problems. This particular one from Wellements (where to buy) is made with all organic ingredients and is 100% natural with ingredients like chamomile, fennel and ginger. You can also make your own at home very easily with my recipe here!
More Baby Articles!
If you're pregnant, check out my Pregnancy Survival Guide. And if you plan to breastfeed or are currently, here are my recommended products for nursing!
SaveSave