All Natural Christmas Gifts – Winter Care Gift Sampler
Here is a sampler of some of my green, all natural recipes and ideas that you can quickly put together to create a unique, special and very functional Christmas gift! All of the items are 100% natural, organic, pure and safe for your body.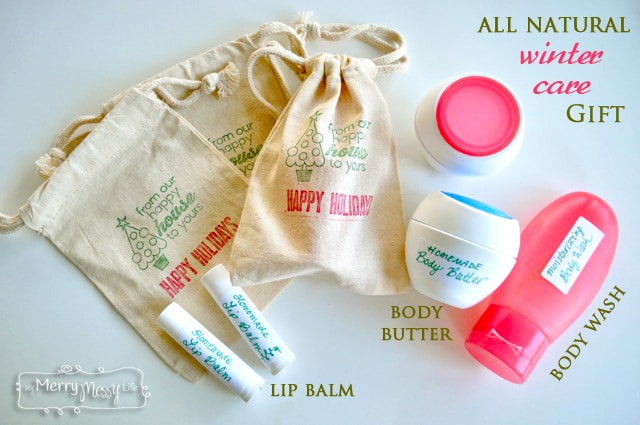 I bought these cotton muslin gift bags from Amazon (buy here) and stamped them with some festive holiday stamps from the craft store. So easy, yet it's still personal and handmade! I used small address labels to write the contents and label the items, which was easier and faster than printing some out. Next year I'll start earlier so I have time to make some pretty labels! I then filled the bags with an assortment of these items.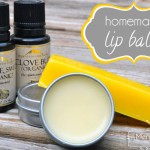 Homemade Lip Balm
First, I bought these chapstick tubes (where to buy) from Amazon and made lip balm from the recipe I wrote here – Homemade Lip Balm. I've found this lip balm functions much better in tubes because it's rather hard to get out of a lip balm container with my finger. Plus, you can make at least 12 to 16 of these from one batch!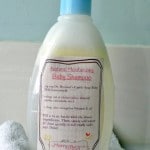 Homemade Gentle & Moisturizing Body Wash
Next, I made mini samplers of body wash using my baby shampoo recipe, but added sweet orange essential oil (where to buy) to it to make a body wash for adults. Of course, lavender would be a lovely addition as well (where to buy). I ran out of sweet almond oil, so I substituted with olive oil instead, which I always have in the kitchen! Of course, if you have scented Dr. Bronner's Castile Soap (or other brand) lying around the house, that would work well, too, and you wouldn't need to add essential oils to it. I bought 3 ounce travel size bottles from Wal-Mart (97 cents each) and distributed the body wash between the bottles.
Homemade Body Butter
Of course, no present is complete from me until it includes my most favorite thing in the bathroom – my homemade body butter and lotion. This is by far the best lotion I have ever used! I found travel-sized face lotion jars (that contain face lotion) at Wal-Mart and emptied them out to fill with a sample of body butter. I hated wasting the face lotion because that's definitely not green, but I haven't been able to find small jars in the store and this was the next best thing! I did find these empty glass jars with chalkboard labels (eek!) on Amazon (buy here).
Jar of Coconut Oil
Another idea is to fill those jars with pure coconut oil. Type or write-up a little card to go with it that explains how to use it (I have some ideas in this post):
Apply to the hair as a deep conditioner before you shower. Cover your head with a warm towel or shower cap. Let it soak for one hour, then wash out thoroughly in the shower. Do once a week.
Rub on the elbows, knees, heels and other dry spots right after showering to lock in moisture and smooth the skin.
Use straight on the lips as a lip balm.
Use as a lotion anywhere on the body for really dry skin.
Baking Soda Body Scrub
If you're short on time and don't have any castile soap around the house to make the body wash, there's probably a good chance you do have baking soda! Whip up a batch of baking soda body scrub and write a little card about how to use it as well!
Use as a gentle face wash to scrub away dirt and oil. Use once a week or several times a week.
Use as a natural and gentle alternative to soap. Scoop into the fingers and scrub onto all the important areas of your body while showering.
Homemade Deodorant Recipe
If you know your gift's recipient REALLY well, you could consider letting them have a brave go at some homemade deodorant! You can explain the wonderful benefits of it, or just write them on a card so they won't think your gift is totally cuckoo (I mean, who's ever received deodorant for Christmas – haha! It gives a whole new meaning to "you really didn't have to, but thanks…"). Anyway, my family would understand if one of them received this because they know how crunchy I've become. So, here's the recipe for you braver souls!
Homemade Natural Make-Up Remover
Fill a travel sized bottle, like the one I mention for the body wash above, with olive, sweet almond, sunflower or other pure organic oil and write-up a little card that explains how to use it as a makeup remover! Just rub on your dry face while it's dry and wipe off with a warm, wet washcloth. Repeat if necessary. It works amazingly well – I will never buy makeup remover again!