Chocolate Banana Muffins with Coconut Flour – Grain and Gluten-Free!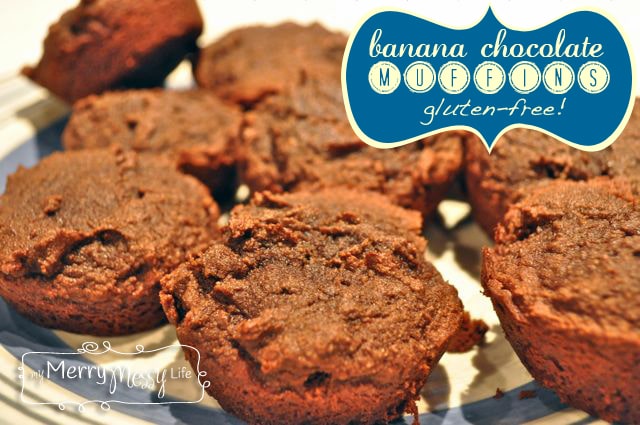 Who doesn't love the combination of fruit and chocolate? I sure can't resist it and when I bought coconut flour from Tropical Traditions a while ago, I started looking up ways to use it in baking. Coconut flour is an excellent alternative to wheat flour because it is gluten-free and FULL of protein – 19.3 grams per serving, to be exact! Read all about coconut flour here. It can be used as a wheat flour replacement in baking, but not in a 1:1 ratio. To read more about how to use it in baking, visit Nourished Kitchen.
So, onto the recipe! I got it from Tropical Traditions blog, Free Coconut Recipes and they were a huge, tasty success. I think the secret is the sour cream – I find it always lightens and fluffs up baked goods.
Of course, no baking adventure in my house is complete without some help from my two sous-chefs! Gabe was still napping, so Grayson started the recipe and Gabe helped finish it once he woke up. Grayson had a BLAST getting to play with the mixer! He tasted it for quality assurances purposes, of course.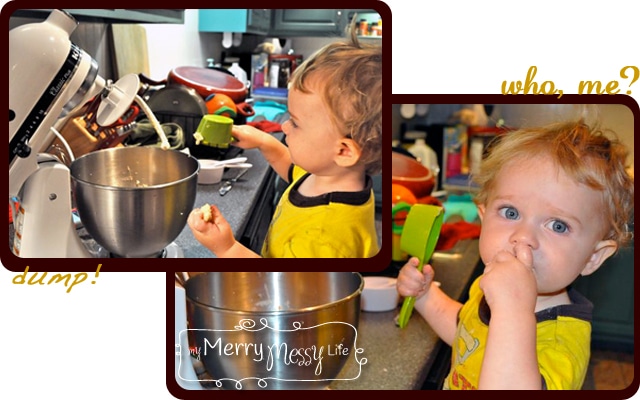 We took all the dry ingredients and stirred them, then set them aside – coconut flour, cocoa powder, baking soda, and salt. Then, in my mixer, we combined the butter and sugar. The recipe calls for 3/4 cup granulated sugar and 1/2 cup brown sugar, but I didn't have any brown sugar so I used all raw organic sugar instead. I'm not sure if it affected the texture or consistency – the texture and consistency were fluffy and moist, just like the in recipe. UPDATE – I now only use raw organic honey to sweeten my treats and replace it almost 1:1 in recipes. I buy my honey from Tropical Traditions and it is to DIE for! So good!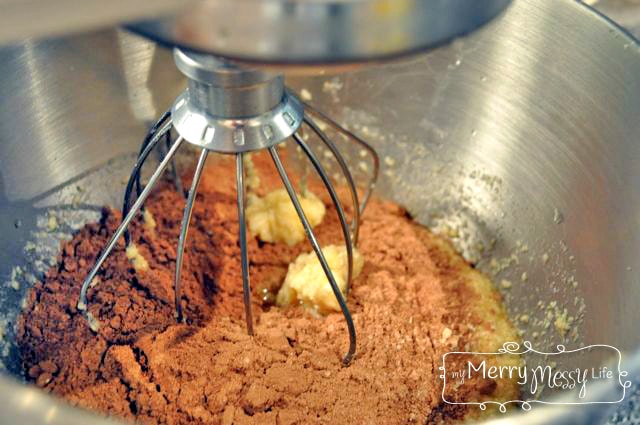 Then, we added the eggs, one at a time, beating in between. Next, we added half of the dry ingredients, then the sour cream and mashed bananas. Finally, we added the rest of the dry ingredients and beat until it was all combined. Gabe woke up and he happily spooned the muffins into the pan, toddler style (eat a little, spoon a little, drop A LOT all over the pan, floor, step stool, hair, face, hands…make a mess!). It took me a good thirty minutes to clean it up, like always!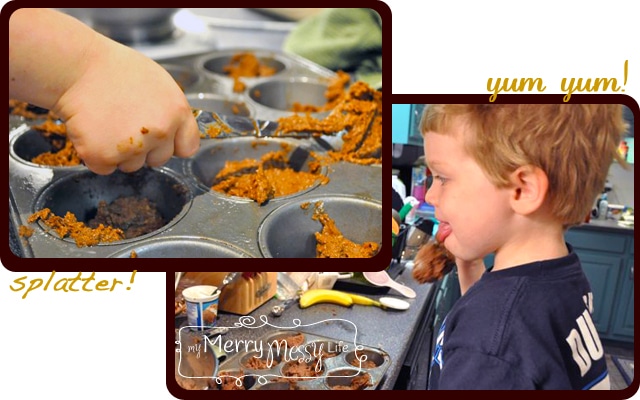 Then, the muffins baked for about 20 minutes at 350 degrees. The kids were very eager to eat them when they came out since it was close to dinner time! They ate them until they had chocolate all over their pudgy little hands and squishy cheeks. Lots of mess for me to clean again, but it's always worth the quality time we spend together, the memories we make, the lessons we learn, and the nutritional real food we make!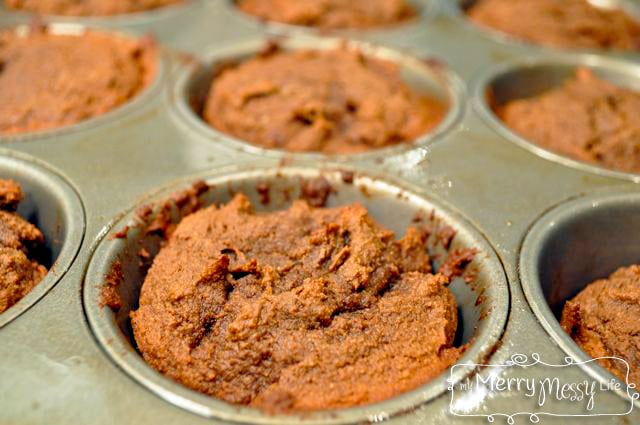 Print
Chocolate Banana Muffins with Coconut Flour – Grain and Gluten-Free!
Adapted from freecoconutrecipes.com – https://www.freecoconutrecipes.com/index.cfm/2009/10/21/coconut-flour-cocoa-banana-muffins-gluten-free
Author:
Prep Time:

15 mins

Cook Time:

25 mins

Total Time:

40 mins

Yield:

8

1

x
Category:

Dessert/Snack
1 cup

coconut flour

2/3 cup

cocoa powder

1 1/2 teaspoons

baking soda

1/2 teaspoon

salt, omit if using salted butter

12 tablespoons

butter or margarine (

1 1/2

sticks), softened

1 1/4 cup

raw organic sugar

6

large eggs

3

very ripe bananas, mashed

1/2 cup

+

2 tablespoons

sour cream
Instructions
First, combine the cocoa powder, coconut flour and baking soda in a bowl and set aside. Sift if desired, but it's not necessary.
In a mixer with the paddle attachment, combine the raw sugar and softened butter until light and fluffy.
Add the eggs one at a time to the mixture and beat while adding (scrape down the bowl as necessary throughout the process).
Then, add half of the dry mixture and beat to combine.
Add the sour cream and bananas and beat.
Add the rest of the dry mixture and beat until combined. Batter will be thick and will have small chunks.
Spoon into greased or lined muffin pan 3/4 full. Bake at 350 degrees for 20 to 25 minutes, or until a toothpick comes out clean when stuck in the middle of a muffin. Enjoy with your favorite people!
Disclosure: If you order by clicking on any of my links and have never ordered from Tropical Traditions in the past, you will receive a free book on Virgin Coconut Oil, and I will receive a discount coupon for referring you.