Christmas Craft with Kids – Felt Ornament with Puffy Paint and Pom-Poms
Our kitchen table is getting bombarded with paper, scissors, felt, glue, paint, pom-poms, smiles, giggles and chatter – all to make crafts for Christmas and for some homeschool preschool! These adorable Christmas ornaments are so easy for kids to make, mine's only 3, using felt, pom-poms, puff paint, and scissors.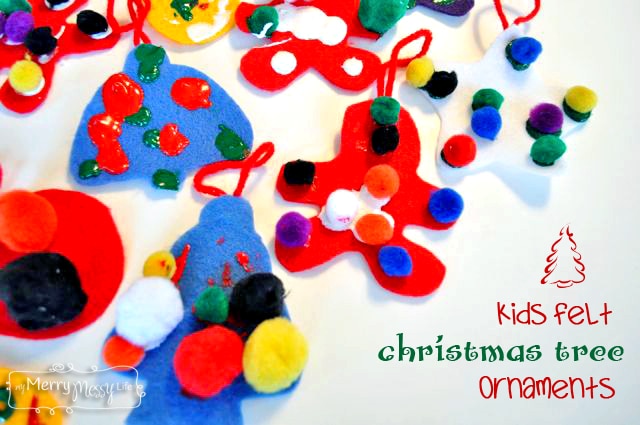 My preschooler, Gabe, and I are on a Christmas crafting roll and are really enjoying ourselves. I'm so tickled that he's now so interested in crafting with me. It affords us the opportunity to spend time learning about shapes and colors, develop his dexterity and creativity, and make precious memories. I don't know what I'll do with these precious mornings once his little brother stops taking morning naps and the baby comes – they'll just have to join us, I guess!
Supplies
Now, while I was cutting up the felt, I had to keep Gabriel happy, so I gave him some scrap paper and he was happy he got to cut up stuff like me. He loved it!

How To Make the Ornaments
Trace your Christmas cookie cutters or stencils onto the felt with your chalk pencils (fabric markers didn't work well on the felt for me)
Using very sharp fabric scissors, cut out the shapes (adults only)
Then, put down an old tablecloth, put a smock on your child, and let them go to town squirting out paint and sticking pom-poms to the felt!
Once they dry (it took almost 24 hours for us), hot-glue a piece of yarn or string onto the back to hang them up.
Remember, crafting with toddlers takes a lot of patience. I tried my best to keep my mouth closed and to not tell him how to do it – I wanted him to make the decisions and use his creativity. There's nothing like a nagging helicopter mom to stifle creativity, and I still have to fight being that way. It isn't easy, but it makes for a much more pleasant and FUN experience!
Gabe liked this project so much that he spent an hour-and-a-half working on these ornaments. Anyone who has a toddler knows that's a very long time to spend on one thing! So they were a smashing success.
The ornaments look so cute on his kid-sized, four-foot tree! And the best part is he is so proud of them.
I still can't believe Gabe had the patience to make all of these in ONE sitting!
This post is linking up at these parties.