Christmas Felt Wreath Craft with Kids
This Christmas felt wreath with pom-poms and puffy paint is super easy and fun to make, even for a toddler!
We've had so much fun this December coming up with ways to use felt, pom-poms and puffy paint to make our own Christmas decorations. In addition to this wreath, we also made our own felt tree ornaments! Gabe has really enjoyed using glue and loves the colorful pom-poms, or marbles according to him. I've seen his dexterity and creativity flourish with all this craft making, which is a great skill when you're just 3!
Supplies:
1 yard of felt fabric from the fabric store (I love JoAnn's)
Assorted tubes of Puffy Paint (where to buy) (these were under $1 each and I bought 5)
Sharp fabric scissors (where to buy)
Fabric chalk pencils (where to buy) – one light and one dark, or a couple of pieces of chalk
Bag of pom-poms (where to buy)
Permanent fabric glue (where to buy)

Directions:
Take the felt and cut out a square as big as you want your wreath to be
Fold it in half twice
On the open sides of the felt (not the crease), take your chalk pencil and draw out three evenly shaped scallops
On the creased corner, take a plate or other circular object and trace a quarter of it onto the felt
Cut along all your traced lines, then unfold
Trace your wreath onto the poster board
Cut it out
With fabric glue, glue the wreath to a piece of poster board
Have your child go to town decorating it with the pom-poms and puffy paint!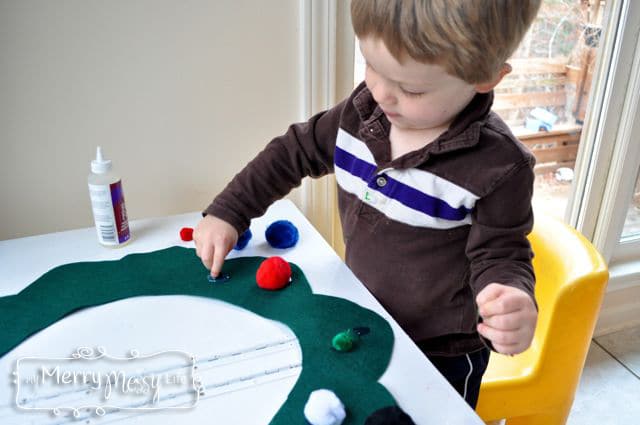 Remember to be very patient with toddlers! It may sound silly, but I make sure I am not tired or hungry when we do big crafting sessions. That way, I am much more patient and can let him be as creative as he wants. There is nothing more annoying than me nagging him when we're doing something fun and creative! Their craft will not be perfect, but it will be their own unique creation. I let Gabriel decide where he wanted to put all his pom-poms and paint and just made sure he didn't get paint all over the kitchen.