Free Crochet Scarf Pattern with Cluster V-Stitch
Here's a free crochet scarf pattern with the cluster v-stitch that is quick and easy to whip up, and still has such nice texture and a lacy look. It can be done with just one skein of yarn or more for a longer scarf.
I wear this scarf a lot because the color just really cheers me up! It's Lion Brand Vanna's Choice in Lime. It looks perfect with my favorite turquoise sweater and I always get compliments on it. Best of all, the stitch is really easy to work once you get the hang of the cluster v-stitch. I have a full photo tutorial here on the blog if you're not familiar with the stitch yet.
Free Crochet Scarf Pattern with the Cluster V-Stitch – One Skein Project
Written and Designed by Sara of My Merry Messy Life. Please see my Legal page for terms and use of this pattern.
Materials
Hook: I
Yarn: Worsted weight acrylic, Lion Brand Vanna's Choice in Lime (where to buy), 1 3 oz. skein
Abbreviations
CH = chain
DC = double crochet
YO = yarn over
SK = skip
The Cluster V-Stitch
See my full photo tutorial on the cluster v, or it's just – *Yarn over, insert hook into space and pull up a loop (3 loops on hook). Yarn over, and pull through 2 loops (2 loops remain). Yarn over, insert hook into same space and pull up a loop (4 loops remain). Yarn over and pull through two loops, then yarn over and pull through the remaining 3 loops. CH 1. Repeat from * but do not CH 1 again.

The Pattern
Row 1
CH 15 (or any chain length that is divisible by 5)
In the 4th CH from the hook, work a cluster-v
*SK 2 CH's
Work another cluster-v
Repeat from * 2 more times for a total of 4 cluster v's
Skip 1 CH
Work a DC in the last CH of the row
Row 2
CH 3, turn
Work 1 cluster-v in each CH 1 space below (the CH 1 space is the space in between each side of 1 V)
DC in the last DC
Repeat row 2 until you run out of yarn! For me that was 62 rows. Might be slightly different for you if the yarn brand is different, different hook, different tension, etc. If you are tall, you might want to do another 15-20 rows or so to make the scarf longer and will, therefore, need another skein.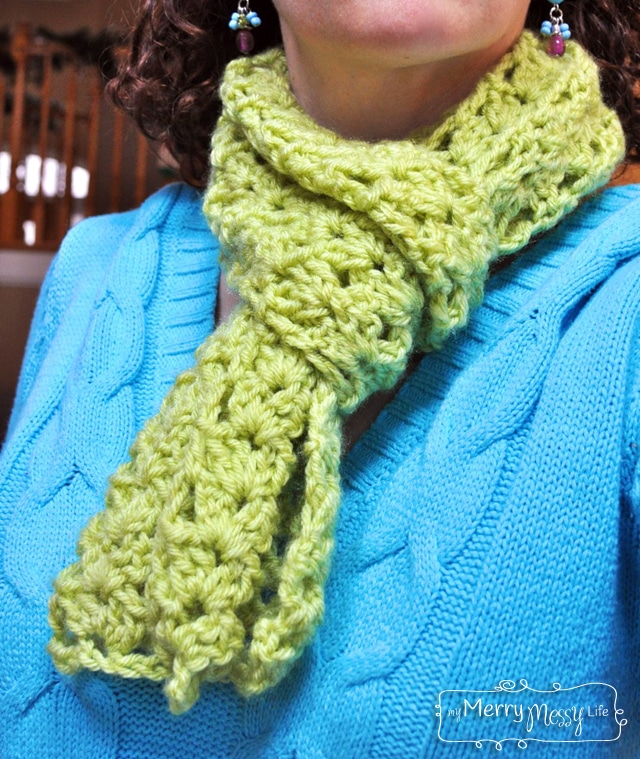 These are great for Christmas gifts as you can work them up very quickly and they only use 1 skein! I've been able to tie it two different ways – in a simple knot like in the first picture, where the scarf hangs down past my waist (but I'm only 5'2″!) and a more traditional knot that tucks perfectly under my coat to wear out in the cold.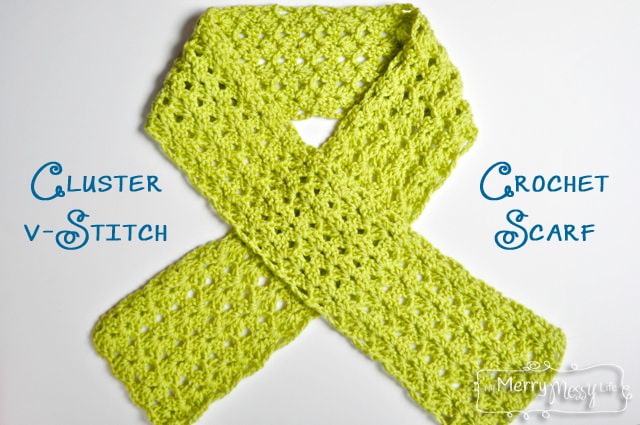 That's about as easy as it get, folks. Merry Crocheting!