Free Crochet Baby Blanket Pattern – Mitered Granny Square
Here's a free crochet pattern for a baby blanket using the crochet mitered granny square stitch! Every new baby needs a special, homemade welcome into the world and this crochet mitered granny square blanket is the perfect pattern! You can use any variety of colors to give it a unique look, making the geometric and graphic pattern really pop.
Made this Crochet Baby Blanket for Our Youngest Son, Griffin
There's a precious, brand-spankin-new little bundle in our house these days, and I just can't get enough of his cuteness. We named him Griffin and he's our third boy in under four years, so needless to say, life is hectic and crazy but full of excitement and cuddles.
Also Made an Entire Crochet Baby Layette Set!
Thankfully I was able to crochet a layette set for Griffin before he arrived, and the inspiration for the set started with this free mitered granny square blanket pattern from Crochet Again. She has an excellent photo tutorial that made learning it super easy. To see all the patterns in this layette set (which include another hat that is not pictured), click here.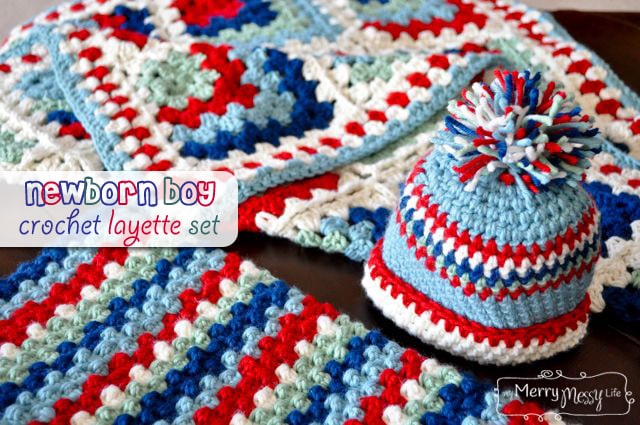 I chose to make it with a wool-blend yarn, as wool is a nice, strong and soft natural fiber and went with the Extra Soft Wool Blend by Martha Stewart Crafts from Lion Brand Yarn – Sailor Blue, Holly Berry, Winter Sky, Buttermilk, and Green Eucalyptus.
For the edge border, I crocheted 4 rows of granny stitches. I found that any less than four was just not substantial for my taste. I also crocheted 16 squares, which has made it the perfect size for a baby blanket.
Join As You Go Method
To join the crochet mitered granny squares, I did the join as you go method that is mentioned in the pattern post, but found the link included in the post to do the method very, very confusing! So, I learned how to do it from this video made by AllFreeCrochet.com, where several of my patterns are listed!
I still found it to be confusing, maybe others of you don't, but I managed. I did crochet all of the squares first, then crocheted them together at the end. That way I could lay them all out and plan where each one would go and decide the orientation of each square.
The above picture is the backside of the blanket, where each join makes a raised bump. On the right side, there is no bump and it looks very nice and smooth.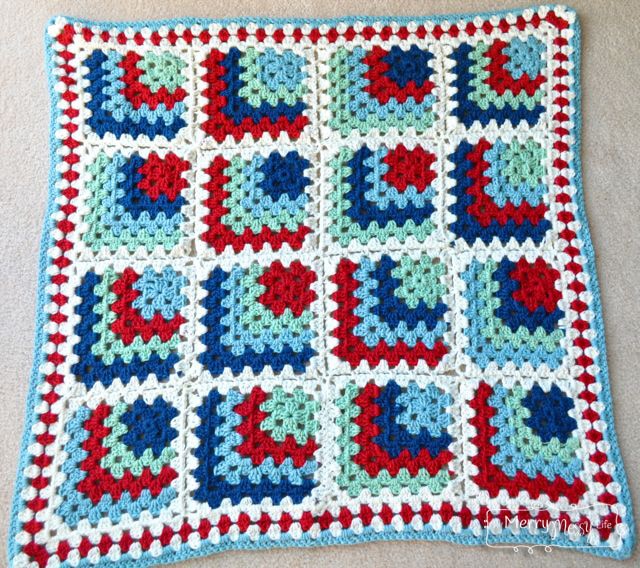 TA-DAH! The entire blanket. It isn't this crooked, just had a heck of a time getting it to lay straight on the carpet!