Crochet Cozy Cowl – Free Pattern
A warm, fuzzy, functional cowl to keep you warm and adorned on those bitter cold days! I love the repetitive stitching of this pattern that makes it easy to crochet while watching TV, yet it is still interesting and has some texture.
Materials
Worsted weight yarn – I used Bernat Alpaca Blends in Aqua (it took almost 2 skeins, or about 7 ounces)
K hook
Button or flower to adorn it if desired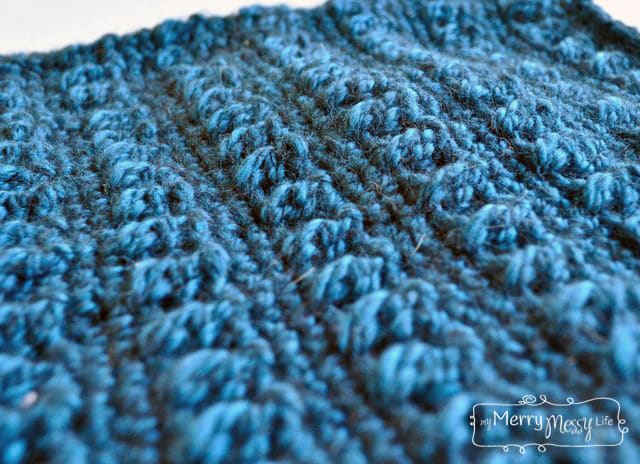 Abbreviations
CH = chain
SC = single crochet
DC = double crochet
SL ST = slip stitch
SP = space
Row 1
CH 61 (or any multiple of 3, plus 1)
In the second chain from the hook, work a SC
Work 1 SC in each ST down (60 SC total)
Join to beginning SC with a SL ST (use the tail from the beginning chain to sew the bottom part of the row together)
Rows 2-3
Tip – it's harder to see the start and finish of a round of single crochet, so you might want a stitch marker to make it easier.
CH 1
SC in each SP all the way down (60 SC total)
SL ST to close
Row 4
CH 3
*SK the next two SC (but just 1 SP)
Work a DC in that 2nd SP
Work a DC in the previous space
Repeat from * all the way down
SK the next two SC (but just 1 SP)
Work a DC in the last space
Join with a SL ST to the beginning DC
Rows 5-7
CH 1
SC in each SP all the way down (60 SC total)
Row 8
Repeat row 4
Repeat rows 5-8 until you reach the desired height. For me, it was about 32 rows total. It used up almost all of 2 skeins of yarn, but not quite. I would've kept going, but honestly just wanted to move on to another project!
Photo Tutorial
Step 1: After working 3 rounds of SC, start your fourth round with a CH 3 (counts as first DC).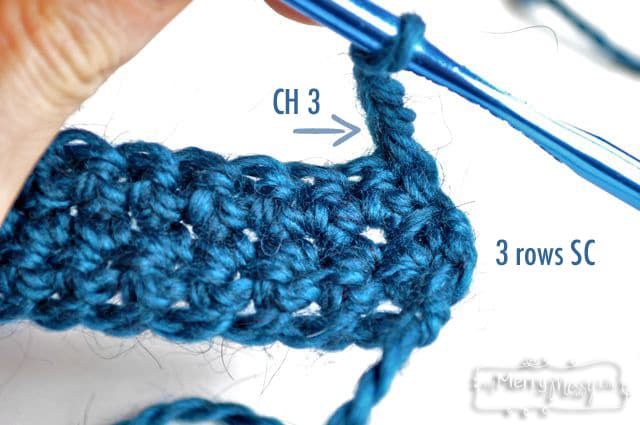 Step 2: Now, skip two single crochets, but just one space. In that second space, after the second single crochet, work 1 double crochet.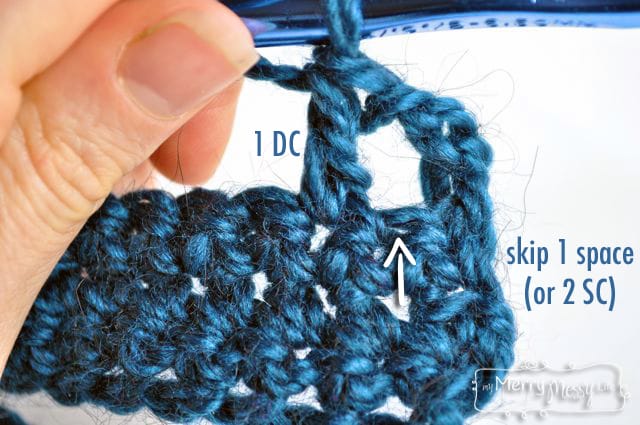 Step 3: In the previous single crochet space (the one you skipped over), work a double crochet. It will cross over the front of the previous double crochet and make an X. You are working on the wrong side of the fabric – on the other side you'll see that it pokes out and makes nice texture.
Step 4: Skip two single crochets again (or just one space, however you want to think of it, and it's not the space where that first double crochet of the X was worked), start again by working a double crochet. Then, work another double crochet but in the previous space, the one you just skipped over.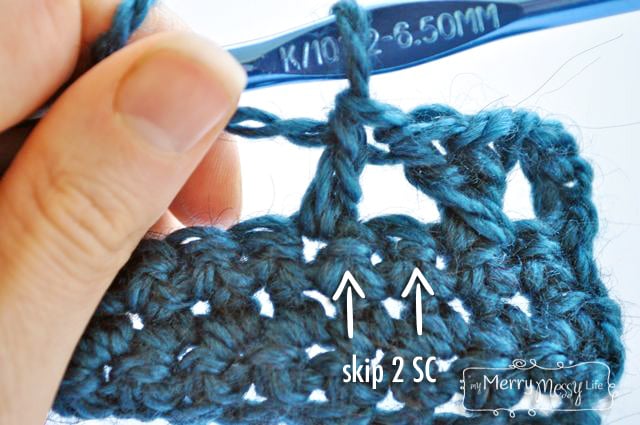 Here's what one swatch of the pattern looks like – 3 single crochet, then the reverse double crochet row. Each round starts and ends with a double crochet (but doesn't make the X).