Detoxify Your Home – Week 2 Challenge of Detoxify Your Life
Welcome to week 2 of the 31 Days to Detoxify Your Life Challenge! Last week's challenge was to detoxify your food, which I think we can all agree, is by far the hardest thing to change, but it is also where you will see the most improvement in your overall health. The next step is a lot easier, and I've found, can be really fun – detox your HOME!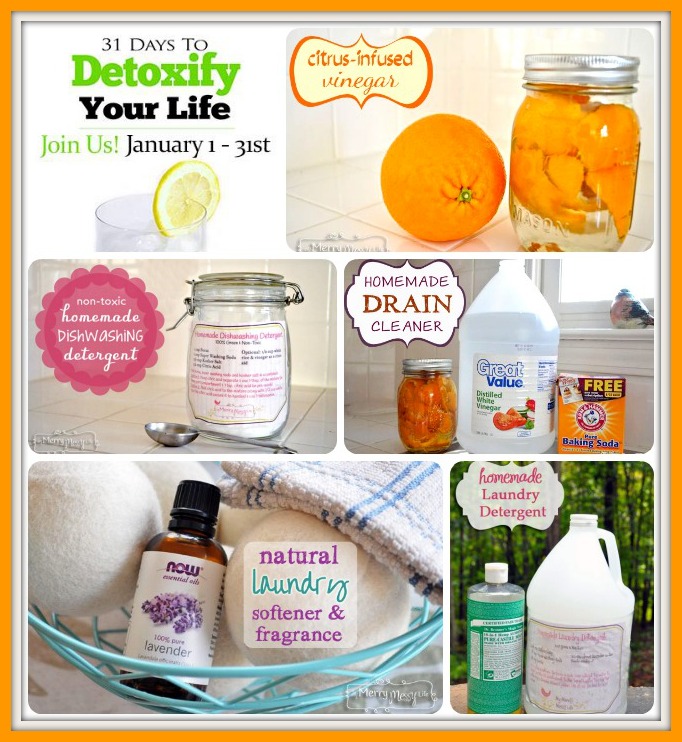 This is how I got started in natural living to begin with. I started by making my own dishwashing detergent, laundry detergent and ditched my shampoo by going poo-free (still the most popular post EVER on my blog). The great thing about going non-toxic in the home is it is not only cheaper to make your own cleaning supplies, but it's easy and works just as well if not better than commercially bought products!
This week we are focusing on removing the toxins from our homes.
Here are some shocking facts
The average American Uses about 25 gallons of toxic, hazardous chemical products per year in their home…A major portion of these can be found in household cleaning products. —"Prosperity Without Pollution," by Joel S. Hirschorn and Kirsten V. Oldenburg, 1991

The toxic chemicals in household cleaners are three times more likely to cause cancer than air pollution. – Environmental Protection Agency report in 1985

Of chemicals commonly found in homes, 150 have been linked to allergies, birth defects, cancer, and psychological abnormalities. —Consumer Product Safety Commission

In the past 50 years more than 75,000 chemicals have been introduced into the environment. Today 300 synthetic chemicals are found in the bodies of humans. Even newborn babies have synthetic chemicals passed on from their mothers. —REACH (Registration, Evaluation, and Authorization of Chemicals, a European Union program)
The EWG Database is Your Friend
The chemicals most people are using to clean their homes are insanely toxic and have a whole host of detrimental health effects associated with them ranging anywhere from skin sensitivity, endocrine disruption (like hormone issues), to cancer and even death. These are cleaners Americans use in their homes every single day! You can look up the cleaners you are using in the EWG database and see what grades they get. I use this database often and have referred to them in many a post here on the blog.
It's Not All Bad News When You Know How to Fix It
Thankfully, there are many safe and effective natural cleaners that people can use without all of the nasty health effects.
In Week 2 we discuss the ill-health effects of commercial cleaning products, and then we give you better, healthier, non-toxic options to use instead. Most of these recipes have less than five ingredients, all which are natural and non-toxic. You can customize them to meet your needs and even add the fragrances you enjoy by using essential oils. These cleaners are sure to turn any skeptic into a believer.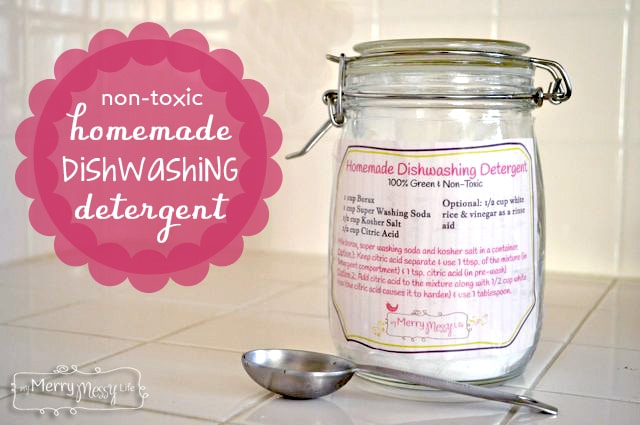 We include over 20 cleaning recipes, from carpets to hard wood floors, antibiotic counter cleaner, powdered and liquid laundry soap and so much more! You will be glad to have this invaluable resource on your computer or e-reader as a quick and easy guide to natural non-toxic house cleaning.
Are you ready for this week? Come join us and make the commitment to detoxify your life safely, naturally, and without harmful side effects. Make a real change in your life and take this step to better health and wellness.
In the meantime, you can win these prizes!