DIY Homemade Organic Body Butter & Lotion
I am in love with my new homemade, organic body lotion. It is divine, decadent, and so rich. It looks and smells so good I wanna eat it and it is doing wonders for both my skin and hair! The coconut oil gives a refreshing coconut smell that always reminds me of the beach, and the almond oil and shea butter give it a wonderful, full-bodied nutty smell.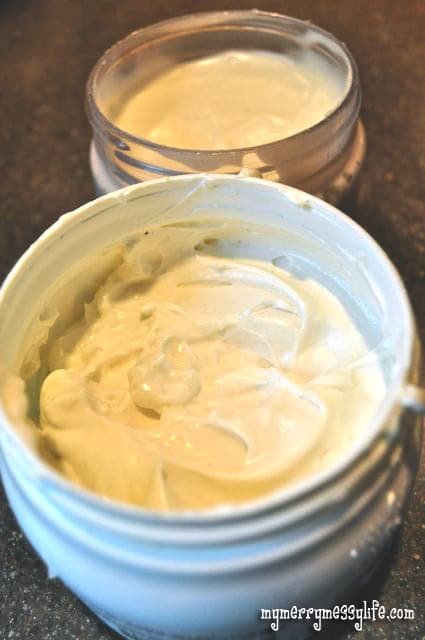 **I do have an updated version of this recipe that includes beeswax, making it even more amazing, and it includes a free printable!
I wanted to make my own because not only is it fun to make, but it is full of all natural, organic ingredients that all come directly from trees! So, I don't have to worry about chemicals that are being absorbed into my skin, then distributed all over my body. Take for instance the lotion, CeraVe. My mom gave this to me for Christmas because it has worked really well for her and my dad, and it's thick, creamy and works well on my dry, eczema-prone skin, too. However, I looked it up in the EWG Skin Cosmetics Database and found it has a moderate hazard for endocrine and organ system toxicity, some contamination concerns, and it is not known whether or not they test on animals. Ack! I also looked up Aveeno, and it has a much better rating, so it is less toxic than CeraVe, but they do test on animals. And, to make matters worse, for many of the ingredients on both products, the data is limited, so it's hard to know how toxic they really are.
I've also been using it on my very curly hair (see my natural curly hair regime here) as a mousse and have been very happy with it! I'm so excited because now my entire hair care regime is organic, homemade, and cheap. I make my own shampoo and conditioner from baking soda and apple cider vinegar. See the post on that here. My hair has never looked healthier, shinier and felt softer.
UPDATE: When I wrote this post, I had been using it as a hair cream and did for several weeks. But I no longer do so, bummer, I know. I wanted it to work, but it made my hair so tangly it was completely unmanageable! Wish I could give you a different report.
About the Recipe
So, onto the fun stuff. I got the recipe from Rawmazing, and followed it almost exactly, except that I added 10 drops of lavender oil. I will probably add more next time, as the lavender is barely detectable. The lotion contains only three ingredients (unless you add an optional essential oil for fragrance), all of which I bought on Amazon.
Like most natural/organic products, they take some getting used to because we are so accustomed to processed, un-pure things. So it honestly took me several days before I liked the way it felt on my hands, as it is quite oily, but now I'm in love because it not only heals my dry skin, but protects my hands from the rigor of washing up after little human beings.
Cost Breakdown
Each batch makes 32 ounces of lotion – that is a ton! It will last a long time.
Organic Coconut Oil – Buy at (where to buy) (hand made and organic!)

$8.49 for 16 oz. and you only need 4 oz. of it to make 32 oz. of lotion
Making it $2.12 for 32 oz.! You also get free super saver shipping on Amazon.
Also doubles as a great face lotion all by itself! I love the way it feels on my face.

Organic Sweet Almond oil (where to buy)

$7.00 16 oz. and you only need 4 oz. of it to make 32 oz. of lotion
Making it $1.75 for 32 oz.!

Organic, Raw, Unrefined Shea butter – (where to buy)

$11.50 for a pound, and you only need 8 oz. of it to make 32 oz. of lotion
Making it $5.75 for 32 oz.!
It's much better if you get unrefined, organic raw shea butter. The refinery process removes many of the nutrients from the butter that make it so good for your skin.
The price per 32 oz. batch is $9.62 (if you buy from the links above). Cheap! That's even cheaper than CeraVe, which is $7 for only 16 oz. Let's compare our lotion to another lotion on the market that is organic and half full of pure shea butter. I found one from Organic Essence which contains mostly organic shea butter, and also has other organic oils like lemongrass and mint. It is a whopping $17.24 for just 4 oz. Wow, way more expensive than the homemade option! Our's cost just $1.06 per 4 oz.! Now, their jar is biodegradable, so bonus points for that. But I up-cycled two old lotion jars, which is even more earth-friendly.
The Recipe
So, onto the making of the lotion! Grab a trusty assistant like the handsome fellow I found crawling around the kitchen, and let them satisfy their curiosity with the mixer, which we'll use later.

Have fun scooping out the shea butter – it's like playing with very sticky play dough, or dense cookie dough. And the nutty fragrance is divine! It really stuck to my hands. I felt like I need flour, like I was baking cookies!
Just like the recipe says, put all the ingredients in a double boiler on the stove until the coconut oil and shea butter melt.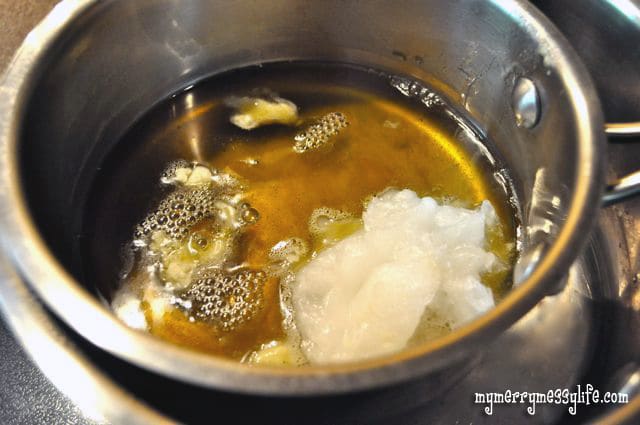 Then, store it in the fridge until it chills and hardens. That took about 2 hours for me and will look like this:


Then whip it up in a mixer, which took about five minutes for me to get it nice and whippy. This is a necessary step to create emulsion, which is a combination of two or more liquids that will normally not mix (immiscible). Several readers have reported that they skipped this step when making my other lotion and diaper rash cream and the ingredients separated when it hardened, making the lotions unusable  It will look just like whipped cream and it will not be thick, but runny. I thought there was something wrong at this point, but after it settles a few hours later, it turns back into a more hardened state in the jar.