A two-part series on how to go green with your household cleaning products. Not only can you create safe, non-toxic cleaners in just minutes, they are also super cheap!
(If you're just getting to this page for the first time, first check out the Getting Started page before reading this for some very helpful info!)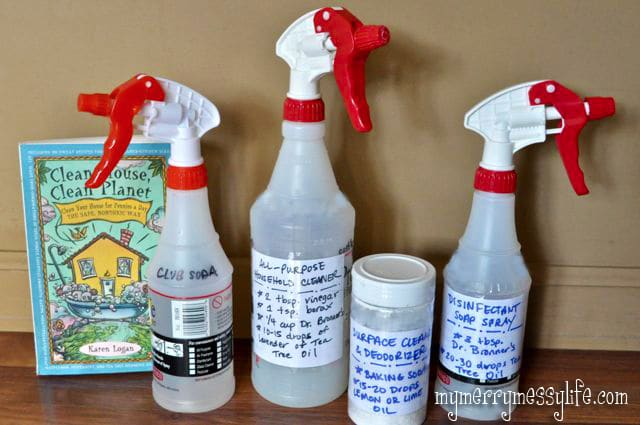 The great thing about green cleaners is because they are non-toxic, you can use them all over the house, which means you need less cleaning products!
See my new post on my top 3 household cleaning recipes, along with a free printable label for each of them!
All Purpose Household & Bathroom Cleaner
I use this cleaner all the time to clean messes off the tile and wood floors including urine (that's what happens when you're potty training!). I also use it to clean smudges off the walls, kitchen countertops and the bathroom. You can use it on every surface of the bathroom, but may want to add more Tea Tree Oil and Vinegar if you want it to be a stronger antibacterial/anti-fungal cleaner. When I use it on eating surfaces, I am careful to wipe the surface clean with water after I use it because of the Borax (go back to the Getting Started guide to read about Borax).
Supplies: 16 oz. spray trigger bottle (where to buy)
Ingredients and Directions
All-Purpose Disinfectant
I hope you're not scared of the smell of vinegar, because it is a powerful cleaning agent! The smell dissipates when it dries, I promise! I use it in my house all the time.
The best thing about this disinfectant, especially if compared to nasty harsh ones like those made by Lysol? YOU DON'T HAVE TO WIPE IT OFF! Use it on toilet seats, diaper changing pads, toys, furniture, countertops, cutting boards – use your imagination! Wherever you want to spray it!
Supplies: 16 oz. spray trigger bottle (where to buy)
Ingredients and Directions
Fill a spray trigger bottle with straight White Distilled Vinegar (Heinz brand is popular because it supposedly has less of a smell, but I use store brand). The reason the essential oils are optional is because of vinegar's strong reputation as an effective antibiotic. The oils just add a big extra boost.
Dusting
Supplies: Microfiber cloth and water
I like to use a damp microfiber cloth (where to buy) to wipe the surfaces in my house clean. It works really well, and is as cheap and non-toxic as it gets! You could also make your own using olive oil and Lemon essential oil (where to buy high quality essential oils)


Mopping
Supplies: Steam mop (where to buy) & microfiber cleaning pads, or a mop and bucket
Ingredients: Water or Liquid Castile Soap (where to buy) (or an all natural dishwashing soap)
My favorite way to clean the floors is with my pretty red Haan Steam Mop. You pay for it once and never have to pay for mopping supplies again, unless you count paying for the water to clean the microfiber pads. It uses just plain ole water to clean the floor, but sanitizes as well at 212 degrees. I use it on our wood and tile floors, so I know it's safe on wood.
If you're a mop and bucket enthusiast or just don't wanna shell out $100 right now, then try using a tablespoons or two of Dr. Bronner's Castile Soap (where to buy) in a two gallon bucket and that will be an effective and green way to clean the floors. You won't have to worry about any chemical residue.

All-In-One Upholstery/Carpet Cleaner & General Deodorizer
Supplies: an empty shaker container (parmesan cheese or spice container works well)
Ingredients: Baking Soda (where to buy), and optional Tea Tree Oil (where to buy high quality essential oils)
Baking Soda makes such a good paste for scrubbing, and it's gentle enough that it doesn't scratch countertops (even granite) or stove tops! This recipe can also be used as a deodorizer and bacteria-killer by sprinkling inside diaper pails, on carpets, rugs and upholstery! The only downside about this cleaner is that it must be vacuumed thoroughly or wiped down with water. It will leave a chalky residue on non-porous surfaces if not wiped down. It has killed poop and pee smells out of our carpets like a charm. I highly recommend this one!
So, in a shaker container, fill it halfway with baking soda. For some germ killing power, squirt about 50 drops of Tea Tree Oil, or a mixture of Tea Tree and Lavender or Lemon Oil (25 drops each) to make it smell less of Tea Tree Oil.
Window Cleaning
Supplies: A 16 oz. spray trigger bottle (where to buy)
Ingredients: White Distilled Vinegar (where to buy) & Water or Club Soda
Fill the bottle with 1 part filtered water and 1 part White Distilled Vinegar (or 8 ounces (a cup) of each). Or, fill it with straight club soda. I've been using the for years and I love that it has no vinegar smell! It takes a few more seconds to dry, though, but leaves no streaks on my windows.
Carpet/Upholstery Stain Remover
Supplies: A 16 oz. spray trigger bottle (where to buy)
Ingredients
Mix all in your spray bottle and use with a sponge. The Lemon oil is especially good for lifting out stains.
Fabric Stain Remover
UPDATE: Check out my entire post on this here!
Supplies: A 16 oz. spray trigger bottle (where to buy)
Ingredients:
I've heard wonders about this stain remover, but haven't tried it myself, but it's next on the hit parade! It's featured in "Clean House, Clean Planet" and fellow blogger, Keeper of the Home, also has a great post about it. Both the book and the other blog mention using Ivory Soap, but I want to try it with Liquid Castile Soap since it's totally organic and safe for the environment, and Ivory Soap isn't as earth friendly (although, it's not bad, either)


An Overnight Dish Cleaning Soak
Dr. Bronner's Liquid Castile Soap (where to buy) is AWESOME at getting hard water stains, stuck on grease and food off the bottom of pots, pans, glassware, and baking dishes. I just squirt enough straight out of the bottle to cover the bottom of the pot or pan and let it sit overnight. The next morning I rinse it out and voila! Every time I've done it the stains are completely gone!