Essential Oils 101 – Accessories and Books
Welcome back to my beginner's guide to essential oils, part two! This time we'll be talking about the accessories, books, and equipment you'll need to be able to use the oils safely and effectively.

If you missed the first post, here it is in case you want to go back. Essential Oils 101 – A Beginner's Guide on How and Why to Use Nature's Medicine 
#1 Must-Have – A Diffuser
Diffusing EO's is the easiest and safest way to use them. You can do it with very little knowledge as to how to use the oils and what they do. Simply find a oil that smells wonderful to you, drop it in your diffuser, and go!
Oils that I Love to Diffuse
(all of these oils come in the Premium Starter Kit)
Thieves and Purification – when the kids are sick, especially with colds, coughs, runny noses or viruses, I diffuse while they're sleeping and awake. It really helps their coughs and they feel better in the morning. I've seen a big difference in the speed of recovery while diffusing. I also diffuse during the day.
Lavender – another good one to diffuse to purify the air and to create a calmer mood.
Joy and Valor – when you need an afternoon pick-me-up or for concentration. Also good to start the morning with these – they put me in a good mood! I often diffuse these when I'm working on the computer.
Peace and Calming and Stress Relief – love to blend these during play dates, when the kids can get rowdy and there is a lot of stimulation for them. They are also great to diffuse at night while we are falling asleep, or even to create a romantic mood for me and my husband, if you know what I mean (wink, wink).
Lemon – excellent for deodorizing. Great for stinky rooms (come to my house after I change a big ole' poopey diaper!).
Peppermint – I just love the smell of peppermint, so I diffuse just to put me in a happy mood!
I love my Young Living Diffuser – it looks like a pretty flower and is also a humidifier, air purifier, and atomizer! I'd like to add that it's a deodorizer, too, a super healthy replacement of the highly toxic Febreeze. It comes in the Premium Starter Kit and is basically free, in addition to the 11 essential oils you receive!
The ultrasonic technology breaks apart the essential oils and water into millions of microparticles and disperses them into the air, releasing the powerful properties of the oil put into it.
It has a nice ambient LED light that is great as a night light, but can be turned off by holding the power button for two seconds.
It runs for 2.5 hours if on constantly, but can run for 5 hours on the intermittent setting – 30 seconds on, 30 seconds off.
It also comes with a user's manual that's super handy for knowing how to clean and take care of it, so make sure to hold onto that!
This diffuser is part of the Premium Starter Package that I purchased, and you can, too, by clicking here!

Essential Oil Accessories
Here are the accessories that are not only nice to have, but I have found to be necessary. Just remember that oils will dissolve and destroy plastic, so always buy glass: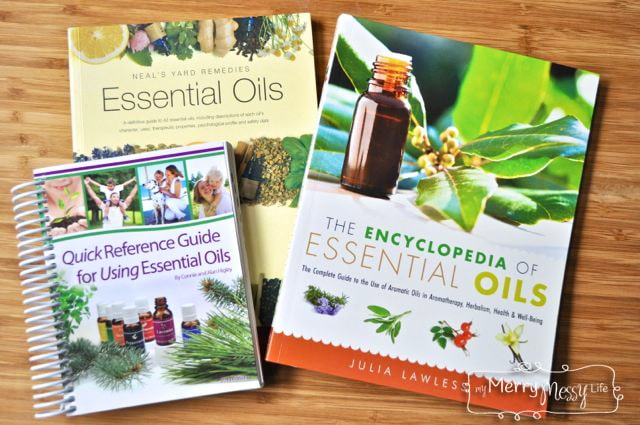 Reference Books for Essential Oils
I use my oil books ALL the time! They are so handy-dandy.
Quick Reference Guide for Using Essential Oils (where to buy) – this is by far the most useful one. Any and every condition known to mankind is in this guide – look up any ailment and find out exactly which oil will work to treat it. It's like being a doctor in your own house! (My husband always asks me if I'm gonna stir up soup with toad legs and alligator eyes!)
Neal Yard's Remedies – Essential Oils (where to buy) – this book lists nearly every essential oil and gives it's history, profile, and uses. Excellent resource if you already have an oil and just want to know how to use that one oil. This book was recommended to me by a friend who was a massage therapist – they used it in her school.
The Encyclopedia of Essential Oils (where to buy) – another excellent reference book that has profiles of 190 oils, their uses and cures.