Hearty Banana Flax Muffins Recipe
Here's a recipe for delicious and hearty banana flax muffins that your family is sure to enjoy! And you can feel good knowing they are getting a nutritious muffin recipe that isn't loaded with sugar or artificial ingredients.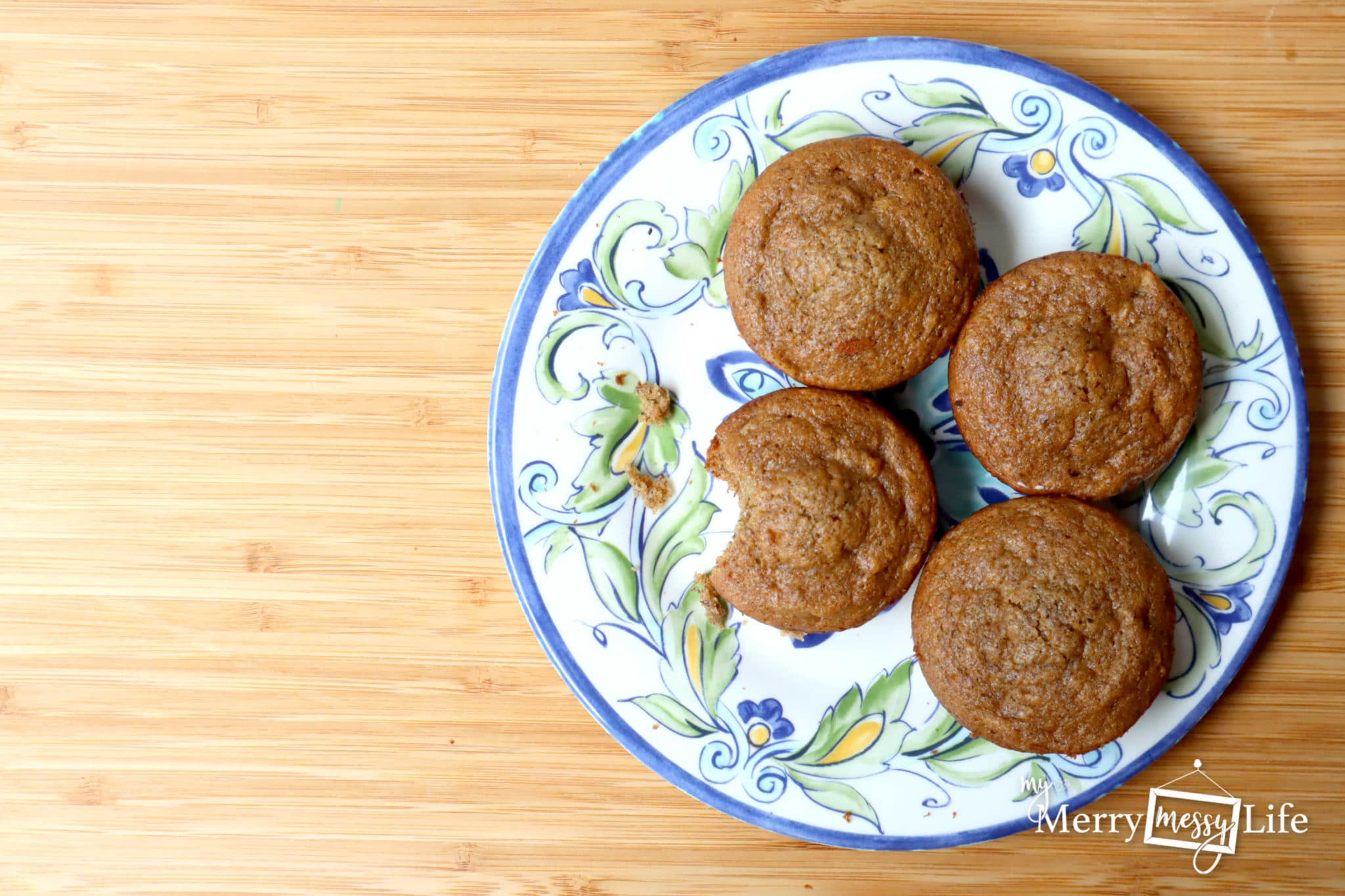 My kids love these muffins and they love to make them with me! I make them for breakfast on weekend mornings and the kids will snack on them all weekend. They're also great to make on a Sunday night to have for breakfast all week long. They can be made with any kind of flour that suits your diet – Einkorn flour, spelt, Kamut, gluten-free, etc.
Why Are So Many People Eating Gluten Free?
Ever wonder why so many people are eating gluten free? I know it can seem like a fad or even that some are making it up, but I know for my family, wheat was making me and three of my four kids break out in eczema and cause constipation. 
Wheat is sprayed with massive amounts of pesticides so we are literally getting small amounts of those pesticides with every bite we eat. It has also been hybridized and the hull and bran, the most nutritious part of the wheat berry, are removed to create fluffier bread that has a longer shelf life.
Another reason is that wheat from 100 years ago only contained 14 chromosomes of gluten. Today, most commercially grown wheat contains 44 chromosomes of gluten to make fluffier bread – this is what causes so many people digestive problems and lead them to eat gluten free, and I was one of them!
For the past 6 years I've been eating strictly gluten free…until recently! I decided to try to make bread from scratch to see if Einkorn flour and freshly prepared bread would make my eczema return. I am happy to report that it hasn't at all!
Health Benefits of Einkorn Wheat
Einkorn wheat is considered the world's oldest wheat, and the only wheat that's never been hybridized. Einkorn is a delicious, healthy alternative to modern, mass market wheat and can be an excellent solution for those with gluten sensitivity. It contains 30% more protein and 15% less starch than commercial wheat, and it is abundant in B vitamins and trace minerals like iron.

Health Benefits of Flax Seeds
I added flax seeds to this recipe because they are so healthy! They have been consumed for more than 6,000 years and they:
Contain anti-inflammatory properties from omega-3 fatty acids 
Contain lignans which are antioxidant substances that help promote hormonal balance
Help improve digestion, cardiovascular health
Balance hormones
High in fiber and which help you fight sugar cravings and support digestive health
Can naturally lower cholesterol (study)
Low in carbohydrates
According to Dr. Axe, it's very important to grind your flaxseeds as whole flaxseeds pass right through your system and aren't digested. Eating just two tablespoons of flaxseeds per day provides about 20 to 25 percent of your fiber needs!
A Case for Grinding Your Own Wheat
Once any of kind of wheat is ground, it looses most of it's nutritional content within 24-48 hours! But grinding your own wheat sounds very pioneer, very old fashioned and hard, right? So here's how to make it easy (and remember I'm a mom of 4 with four businesses and a household to run so I promise this is easy!)
I buy my Einkorn berries in bulk and grind several pounds at once with my Wondermill Grain Mill. If you have a Vitamix, they have a wheat grinder attachment that's cheaper than the Grain Mill (see it on Amazon here). Then I store them in the freezer! When I want to bake, it's as easy as pulling it out of the pantry, you just go to the freezer instead.
Print
Hearty Banana Flax Muffins Recipe
Hearty banana flax muffins that you can feel good about eating!
Author:
Prep Time:

20 mins

Cook Time:

20 mins

Total Time:

40 mins.

Yield:

24

muffins

1

x
Instructions
Preheat the oven to 400 degrees. Grease the muffin pan (I like to take a paper towel, coat it in coconut oil, and coat the cups that way).
Grind your flax seeds in a blender (my fav is Vitamix) or food processor. If grinding your wheat, grind that also (I use a Wonder Mill Grain Mill).
In a large bowl or in a stand mixer, whisk together the egg, oil, honey or sugar, buttermilk and vanilla. In another bowl, stir together the flour, flax seeds, baking powder, baking soda, salt, cinnamon and nutmeg. Add to the wet ingredients and stir or mix just until moistened.
Fold in the bananas and stir with a spoon. Stir in the chocolate chips if using.
Pour batter into greased muffin cups (I like to take a paper towel, coat it in coconut oil, and coat the cups that way).
Bake in preheated oven for 15-20 minutes, or until golden brown and tops spring back when lightly touched.
Notes
I do not recommend using muffin liners – the batter really sticks to them.
Don't have buttermilk? No problem. To one cup of milk, add one tablespoon of lemon juice or while distilled vinegar and let sit for 5 minutes, or until it starts to bubble.
How to Make Your Own Buttermilk
I know I never have buttermilk on-hand, so to make it, I combine 1 tbsp. of lemon juice or vinegar (I prefer lemon juice as it leaves a bright flavor in baking) and one cup of whole milk. Let sit 15 minutes until it starts to form bubbles on top. That's it! It's super easy. The point is to create carbon dioxide, as that makes the muffins lighter and fluffier.