City Maid Green – Natural Cleaning Products Review
Finding a company that has truly all-natural cleaning supplies is not easy. I love when I come across a company like City Maid Green that has a commitment to making and using safe, green products that is also made in the USA!
When I saw on Facebook that an old high school friend of mine had started her own green cleaning company, I contacted her immediately to offer a review. I love to support small businesses and help them get exposure, especially when it's a company I can really stand behind! Even though we go WAAYYY back (nope, you're not getting out of me how old I am!), I am still dedicated to provide an honest review for you.
I noticed right out of the box the trendy graphics on all of the products. Almost all of them have the ingredients listed on the product, which is a nice bonus because that is not required by law for cleaning supplies (but it SHOULD be!). Overall, my biggest impression is all of the products are wonderfully scented with pure essential oils. Dare I say that I almost enjoyed cleaning, just due to the fresh fragrance!
I was able to try their:
All Purpose Cleaner

– Lemongrass (also comes in Lavender, Eucalptus and Grapefruit)
Works great! I've cleaned my toilet, shower, tub and countertops with it several times and it leaves behind a fresh, super clean scent of lemongrass. It's super simple and has non-toxic ingredients: water, saponified coconut oil and olive oil, borax, lemongrass essential oil, lavender essential oil, citric acid
Toilet Bowl Cleaner – Comes in Lavender Pine, Eucalyptus and Spearmint
Traditional toilet bowl cleaners are very toxic – not something you'd want splashed in your eyes and on your skin as you squirt into the toilet. This non-toxic cleaner made it easy to clean out the bowl and also leaves a wonderful, natural scent. Ingredients included are: Water, citric acid, borax, glycerin, polyglucose, lavender essential oil, eucalyptus essential oil, or spearmint essential oil (depending on scent)
Wood Furniture/Polisher
This is probably my favorite product. I've used it to dust my entire house several times now, and it completely removes the dust (many leave streaks of dust behind) and it shines the wood furniture. It was also soft on my hands and didn't irritate my skin at all.
Essential Oil Clean Air Mist
LOVED using this after the bathroom gets real stanky. Worked like a charm to remove the stank and not just cover it up. Plus, it's totally non-toxic! Ingredients: High proof grain alcohol, bergamot, lavender, lemongrass, sage, eucalyptus spearmint, basil essential oils (depending on scent), soy lecithin
Soy Wax Candle
It cleans the air by using essential oils to remove bacteria and mold. Plus, it smells wonderful! Ingredients: Soy wax, benzoin essential oil, lavender essential oil, bergamot essential oil, orange essential oil, frankincense essential oil, lemongrass essential oil, sage essential oil (depending on scent)
Lemon and Herbs Dish Soap
Love that this is made from saponified coconut oil (so it is not a detergent with sodium laureth or lauryl sulfate in it). And it smells divine! Ingredients: Water, saponified sunflower oil and coconut oil, borax, citric acid, grain alcohol, basil, spearmint and lemongrass essential oils
Dead Sea

Salts


This was another favorite of mine. It filled the whole bathroom with a heavenly, relaxing scent and was a very nice way to end the day. It helped to relax my sore muscles and soften my skin. Ingredients: Dead Sea Salt, lavender, rosemary, eucalyptus, spearmint essential oils (depending on scent), dried herbs
Artisan Bar Soaps
These charming little soaps are detergent-free and therefore, do not strip the skin of sebum and natural oils. Ingredients: saponified coconut, olive and palm oils, essential oils, dried herbs
Body Silk Lotion
This one is almost exactly like my homemade body butter, but it's more like lotion and less oily. It is great for using right after washing my hands and I love that it's so pure and natural. Ingredients: shea butter, olive oil, coconut oil, emulsifying wax, essential oils (varies depending on scent), grapefruit seed extract, citric acid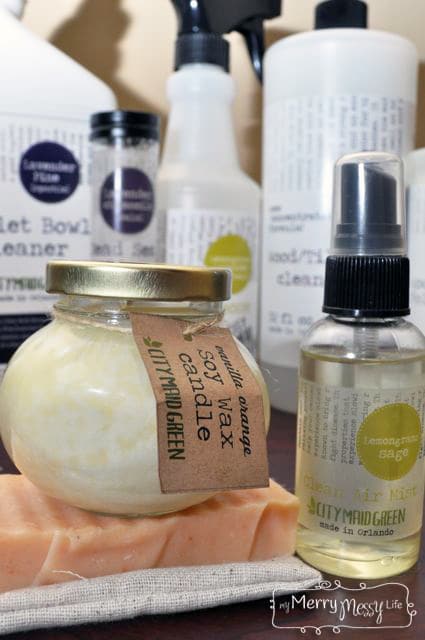 Check out all of their products here! They sell:
Do you have a question about any of the ingredients? Leave a comment and I'll ask Diana, the owner, for you about them. I had some questions about Borax, Polyglucose and Emulsifying Wax and Diana answered promptly. Here are her answers!
Why is Borax used in your products?
Borax is completely safe to clean with. I've done a good amount of research on it and it's an excellent cleaning agent (like baking soda). It's actually just a slightly different composition than baking soda. Borax is sodium tetraborate and baking soda is sodium bicarbonate. It's a boron mineral and salt that's mined directly from the ground. A lot of the studies that people are getting their borax as toxic information from are actually talking about boric acid or sodium borate (none of which are the pure borax). Borax is as toxic as regular salt, baking soda and even water. If you ingest a crazy amount of it, it will give you gastrointestinal upset. Below are are a couple of links to articles if you want to read more about the research. It's an interesting read: https://www.crunchybetty.com/getting-to-the-bottom-of-borax-is-it-safe-or-not, https://educate-yourself.org/cn/boraxconspiracy03jul12.shtml
What is emulsifying wax and why is it used (as opposed to beeswax) in your products?
I use emulsifying wax in the lotion as opposed to beeswax because beeswax is not an emulsifier (it won't combine oil and water). I do use a little bit of beeswax with my emulsifying wax to thicken the lotion but would not be able to make lotion if using just beeswax alone. Not all emulsifying waxes are created equal. I use one that is plant-derived, not petroleum-derived.
What is polyglucose and why is it used?
Polyglucose is a cleaning agent created from renewable raw vegetable matter (fatty alcohols from coconut and glucose from corn). It's what makes the bubbles and foam in the toilet bowl cleaner when you scrub your toilet. I used this ingredient instead of my regular saponified soap (like in the all purpose cleaner) because the toilet bowl cleaner has a high concentration of citric acid in it and using saponified soap with citric acid will unsaponify the soap (it will turn it back into an oil and not a soap). It's the mildest and safest surfactant around. It's used in a lot of organic body washes too!