Here is another mouthwatering recipe made with the all-amazing coconut oil! Did you know coconut oil can be a vegan alternative to butter? It also makes a great paste for adding breading to meat and fish because it adds a wonderful coconut flavor and fills the kitchen with a heavenly scent! Mine is still lingering with it after cooking this tonight. Even the kids enjoyed it!

If you're a vegan or vegetarian who eats fish, this is a tasty dinner choice for you!
(for a printable version, click on the "Print Friendly" button at the bottom of this post)
The Recipe – Coconut Cornmeal Tilapia with Rice and Veggies
Yield – 4 to 6 people
4 Tilapia fillets

(mine were frozen, wild caught from Costco. Even though they were frozen, they were still moist and just melted in my mouth. Perfect!)
2 cups cornmeal (Buy organic from Amazon and in bulk!)

1/2 teaspoon of each of the following:

Cumin

Coriander

Chili Powder

Garlic Powder

Onion Powder

Seasoned Salt

Pepper

Paprika
Any other savory spice of choice will probably work!

Olive oil
Veggies of choice (I used broccoli, carrots and cauliflower)
Brown or white rice (1 to 2 cups of dry rice will feed 4 to 6 people)
3 to 4 spoonfuls of coconut oil (I got mine here, at Tropical Traditions – organic & hand-pressed!)
Directions
Depending on the cook time of your rice and veggies, you might want to start cooking them first, as the fish takes only 10 minutes total to prepare AND cook!
In a bowl, combine the cornmeal and spices and stir. On a large place, spread two spoonfuls of the coconut oil around the plate. Cut each fillet in half, and smear in the oil, then dip in the cornmeal mixture. Repeat if desired, but I did not find this step to be necessary.
Drizzle two glugs of olive oil around a pan and heat. Once it is very warm, saute the fish for about 5 minutes, flipping halfway in between. Done!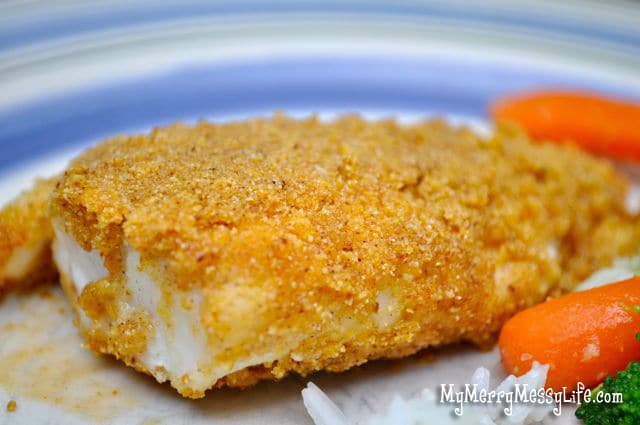 My Favorite Coconut Oil – Tropical Traditions 







This post is being shared at:
Frugal Days, Sustainable Ways at Frugally Sustainable
Tiny Tip Tuesday at Nature's Nurture
Fantabulous Fridays at Little Becky Homecky