DIY Protein Treatment For Damaged Hair
This is a DIY protein treatment for damaged hair that you can make in under five minutes to bring your hair back to life especially after coloring, bleaching, relaxing, straightening, swimming, excessive styling, etc. All of those things break down the proteins in your hair and a protein treatment can help revive and heal your hair. This mask can be used for any hair type from straight, to wavy, curly, kinky, coily, bleached, colored, and relaxed!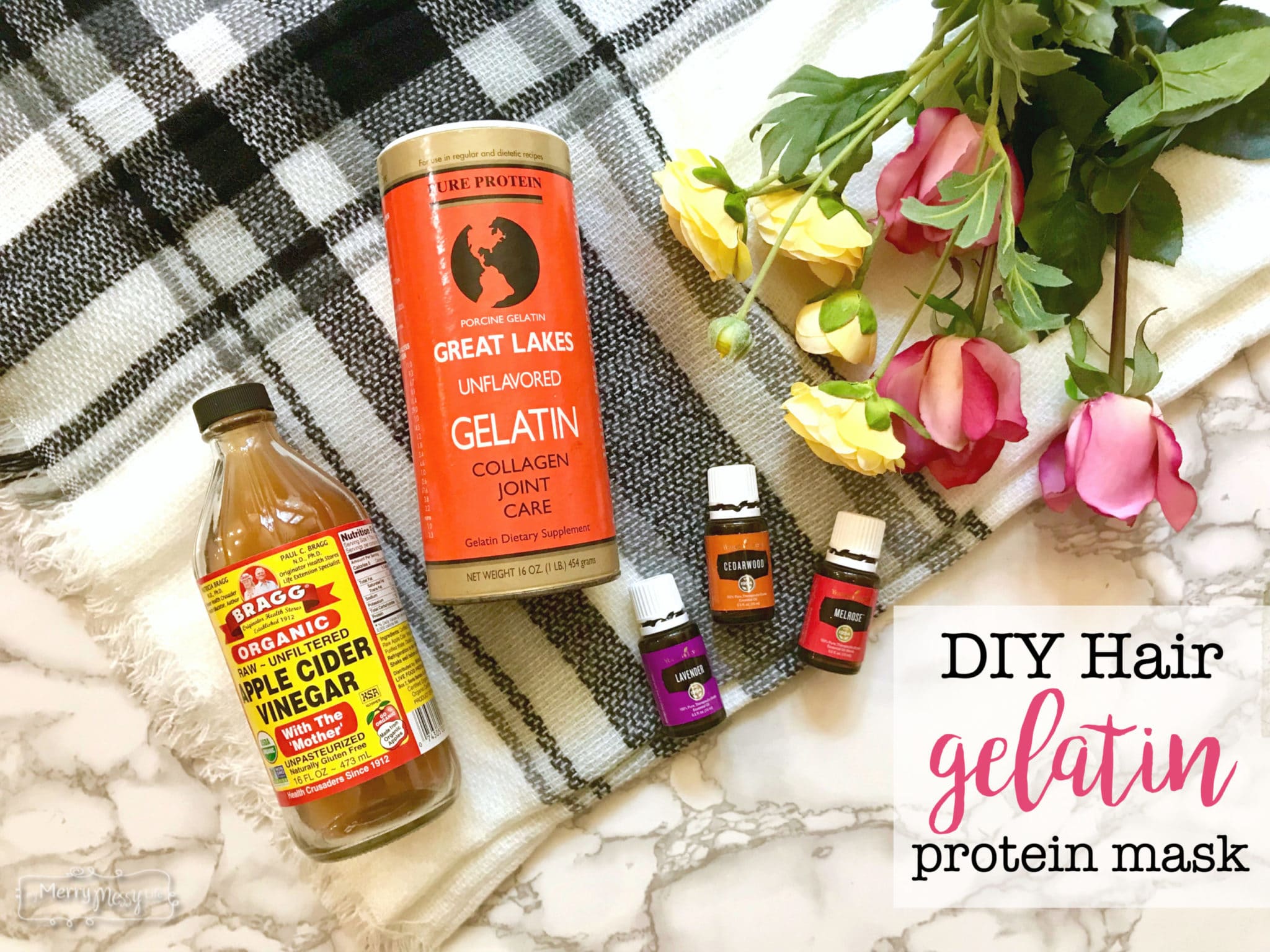 Our Hair is Mostly Protein
Our hair is made up of a tough protein called keratin, which is also found in animal feathers, hoofs, claws and human fingernails. Hair also contains melanin, a pigment that gives hair its color, and trace amounts of vitamins, zinc and other metals. About 10 to 13 percent of hair is made up of water.
So needless to say, our hair is pretty much all protein and, therefore, it needs protein to be healthy and strong. You can get protein through your diet by eating protein-rich foods, and many products contain protein in them so you're always getting doses of it.
But we like to do all kinds of things to manipulate and damage our hair from coloring, straightening, relaxing, styling, bleaching, swimming… and then need a boost of extra protein to keep it healthy!
For Curly Girls
When I first started doing the curly girl method in June of 2018, I did three different protein treatments over about four weeks that I bought from Aphogee on Amazon. They worked amazingly well and brought my hair back to life after many years of damage from silicones in my styling products. If you're not a DIY person, the Aphogee one is really effective and I can personally recommend it! I just didn't use the conditioner that comes with it because it contains silicones.
Hygral Fatigue
My hair got protein deficient because I was sleeping 1-2 times a week in a t-shirt towel with wet hair. Another name for this is hygral fatigue. Sleeping with wet hair can break down the proteins in your hair because your hair gets water logged – just like your skin can when you're in the bathtub or swimming for too long.
Can you believe the difference in this picture? Wowzahs! Before and After.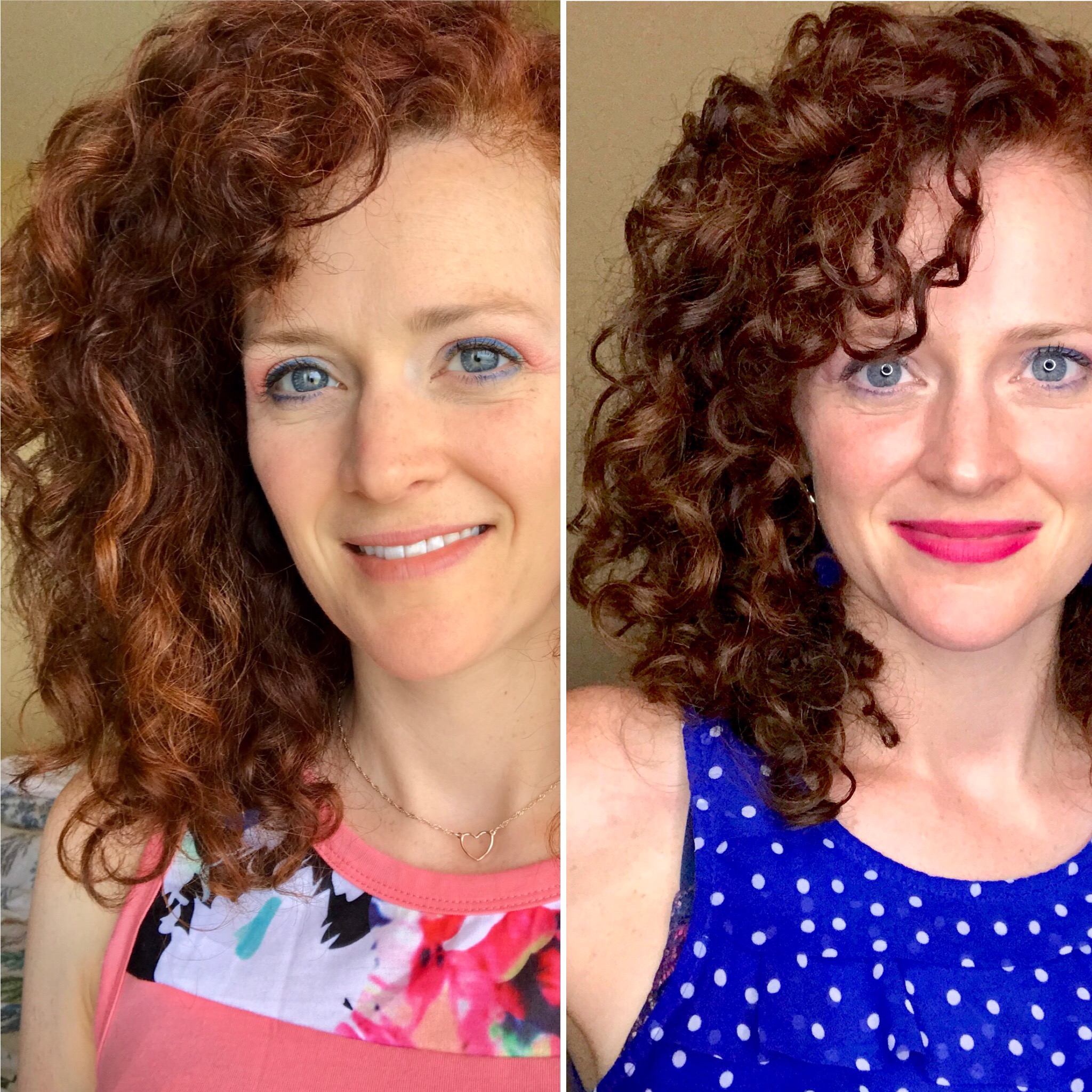 If you'd like to make your own, then this recipe uses the same main ingredient as the Aphogee one – gelatin.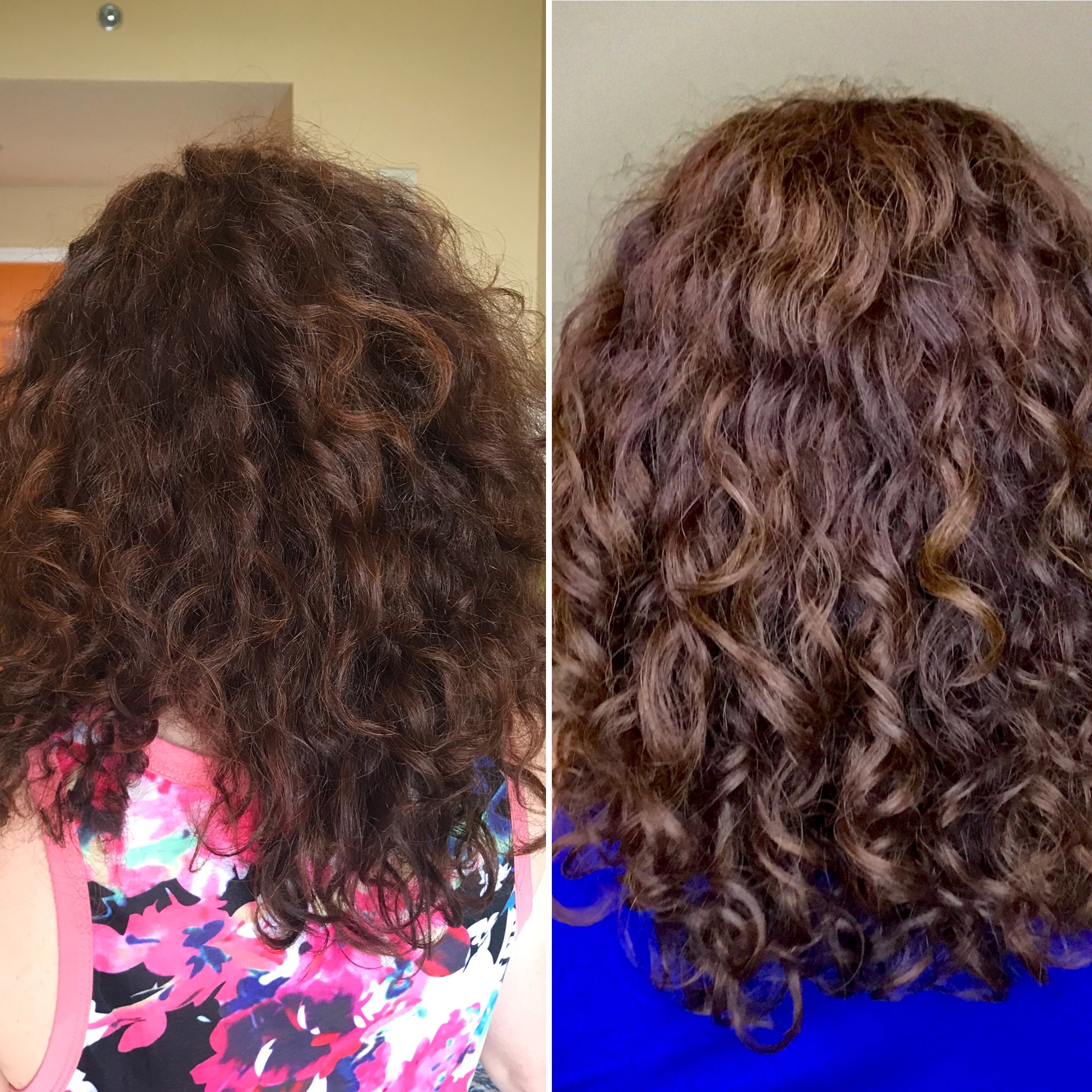 How do you know if your hair needs protein?
Protein overload is a problem that can take weeks to resolve, so it's important to know if your hair needs protein at all. In general, if you are happy with your hair, then in my opinion, keep doing what you're doing. Wait until you're unhappy with your hair or have some of the symptoms below before doing this DIY protein treatment for natural hair.
Breaks easily – if your hair is breaking easily, that's a sign that the hair fiber is weak and needs to be strengthened
Frizzy, limp, dry
(If your hair is curly) – Limp, won't hold curl anymore, has lost curl pattern, is frizzy and dry even after using conditioner or deep conditioning, split ends (also need a hair trim)
If you've done any of the following recently – straightened, relaxed, had excessive manipulation (like braids, twist outs, adding extensions), chemical processing, bleach, or hair color – your hair will need protein and I also suggest an OlaPlex treatment no. 3 (or do it in a salon).
It's had excessive moisture – like from sleeping with wet hair or sleeping with a deep conditioner in your wet hair. This breaks down the proteins in your hair and was how I got my hair into such bad shape!
What does a protein treatment do?
It is made of protein itself, so it binds to the hair cuticle layer and strengthens it. It restores the protein that has been lost. I have found after I do a gelatin hair treatment, my hair is curlier, bouncier, stronger, shinier, and way less frizzy.
From everything I've read on many different websites, it is generally suggested to do a treatment once every 4-6 weeks unless your hair is protein sensitive and also not damaged. If you are happy with your hair, then I say, wait until you aren't and do it then!
To learn more about damaged hair and how to heal it, check out this post – How to Heal Damaged Hair with a Bond Repair Treatment.
Learn About the Ingredients In This Protein Treatment
Learn About Gelatin/Collagen
Gelatin is collagen derived from animal bones. It's an amazing supplement for us that helps to build up collagen and keep our bones and joints strong and healthy. I highly recommend Great Lakes Gelatin and use it for making healthy desserts for my kids, like homemade jello or gummy candies.
To help heal my eczema, which is often a leaky gut issue, where the lining of your intestines is compromised and undigested food particles leak out and get into the blood stream. The white blood cells sees the particles of food as foreign invaders and attacks them, causing all sorts of different autoimmune diseases.
So, anyway, I would drink herbal tea and add a teaspoon or so of gelatin to it to help heal the lining of my gut and found that it did ease my symptoms and really helped my skin!
Learn About Apple Cider Vinegar
I use this magic liquid all of the time! Not only to make salad dressing, but also to clarify my hair. See my recipe here. ACV has many, many health benefits and I have a whole article on what it does and how to use it, here. I also have used it to soothe skin irritations like bug bites and rashes (see that article here), and as a very cheap and healthy face toner!
Other Words for Protein in Hair Products
Nearly all good gelatin hair products do contain protein since it is an essential building block of healthy hair. If you find that your hair gets stiff or hard easily when using products that contain protein, you likely have protein-sensitive hair and should probably use some products that are protein-free, like Shea Moisture's Low-Porosity hair line. Look for names like:
Hydrolyzed wheat protein
Hydrolyzed keratin
Hydrolyzed silk protein
Hydrolyzed Oat Flour
Keratin
Variations of hydrolyzed collagen
Variations of hydrolyzed soy protein
Print
DIY Protein Treatment For Damaged Hair
A simple, natural and effective protein treatment for hair that's been colored, highlighted, straightened, relaxed, or is frizzy, dry, limp and weak.
1 cup

hot water

2 1/2 teaspoons

of gelatin – the cheap kind at the grocery store will do or get Great Lakes Gelatin. Add this to your smoothies for a collagen boost!
Optional – 1 teaspoon Apple Cider Vinegar (gently clarifies the hair and removes product buildup)
Optional – 5-10 drops of your favorite essential oils for fragrance and to soothe the scalp and provide therapeutic benefits to the hair. I suggest Lavender (soothing), Cedarwood (helps to grow hair), Rosemary (cleansing). 
Squirt bottle – keep an old lotion, shampoo or conditioner bottle or get one like this from Amazon.
Optional – silicone-free conditioner or deep conditioner (the normal amount you would use to condition your hair)
Instructions
Heat water in the microwave for two minutes, or on the stovetop until almost boiling.
Remove from microwave or stove, and add the gelatin. Stir well to mix compeltely.
Pour into the empty squirt bottle and put in the fridge to allow to cool. Or throw it in the freezer for 10-15 minutes or so until it cools and thickens.
While it's cooling, shampoo your hair. I highly recommend using sulfate-free shampoos as sulfates are detergents that strip the hair of it's natural oils that it needs to protect your hair and keep it healthy. However, if your hair has product buildup, you may need to use a shampoo with sulfates to effectively remove the buildup..
Separate your hair into 4 sections and squirt the protein treatment onto each section and then brush to distribute the product evenly.
Another option – once you've made the protein solution, you can add some of it to your deep conditioner or regular conditioner and apply it that way so it's not so runny.
Put on a shower cap and leave the treatment in for 20 minutes (the shower cap helps to retain some heat so the protein treatment will be more effective).
To really help the protein penetrate the hair shaft, blow dry it for 20 minutes (in the shower cap). It is important to dry your hair in the shower cap, otherwise you can cause breakage and damage as the protein hardens on the hair. The shower cap will prevent it from breaking.
Rinse out with warm water, and then continue with your normal washing routine.
If your hair is protein sensitive, follow up with a deep conditioning treatment to prevent protein overload.
Would You Rather Buy A Protein Treatment than Make It?
Then I have two suggestions that have worked wonders for me!
Aphogee Two-Step Treatment (just be advised that the conditioner contains silicones, so I don't do that second step – I threw that bottle away).
Neutral Protein Filler – add this to your conditioner or deep conditioner, or squirt right onto the hair after washing. This is based in wheat protein so if you are sensitive to wheat products, it might not be a good option for you.
Follow my account on Instagram for tons of helpful curly hair tips and tutorials! Also, check out my Curly Hair page hub here on the blog for all of my curly hair tips and articles!