Best Curly Hair Styling Products for High & Low Porosity Hair
In this post we're going to learn about the best curly hair styling products by porosity – high porosity hair and for low porosity hair. It can be so confusing to know which products will work for our curly hair as there are many on the market now! And we really don't want to waste our money, so how do we know which ones will for for us? The secret is knowing your hair porosity and more about ingredients. Here's my guide to save you time and money!
Choosing Curly Hair Styling Products Can be Overwhelming
I remember growing up, products for curly hair were few and far between. Thankfully today, they abound in drug stores, Wal-Mart, Target, and on Amazon! But that can also mean that you get really overwhelmed with product overload – everything starts to look like it could be THE product to save your hair! You may end up with bathroom cabinets overflowing with products and feeling more confused that ever.
Let Me Help You Save Money and Reduce Product Overwhelm
I want to help you save time and money when it comes to your curly hair styling products. All you need is education on your hair type, your hair porosity, whether that's low, medium or high. It also helps to learn the effects that the different ingredients will have on your hair. Then you will be able to make wise purchases that are catered to you!
It has taken me six months to figure out a styling routine for my curls that works for me! I have done extensive research about product ingredients and their effects on the hair and have experimented on myself, too, and now know what my hair likes and responds best to.
How to Know Your Hair Porosity
To know which stylers your hair likes best, it's so helpful to know your hair porosity. I have an entire post just on this topic! Read more here.
What is Hair Porosity?
Porosity refers to the way your hair absorbs water. At first I thought for sure I had low porosity hair because my hair takes a long time to dry. But about four months into the Curly Girl Method, after using lots of gels and still having dry hair that didn't last more than a day or two, I finally figured out that my hair loves curl creams rich in shea butter and oils! Go figure.
So I believe now that my hair is actually high porosity, which makes sense because I've been coloring my grays for years and hair color is so damaging. And my hair also loves protein, which is another sign that it's more high porosity than low porosity.
Read this post first to find out your hair porosity first, then come back to this post!
Curly Hair Styling Products for Low Porosity Hair
Low porosity hair is more sensitive to protein, so choosing stylers that contain less protein is helpful! It can also be weighed down easily, so I recommend using products that contain lightweight moisturizers.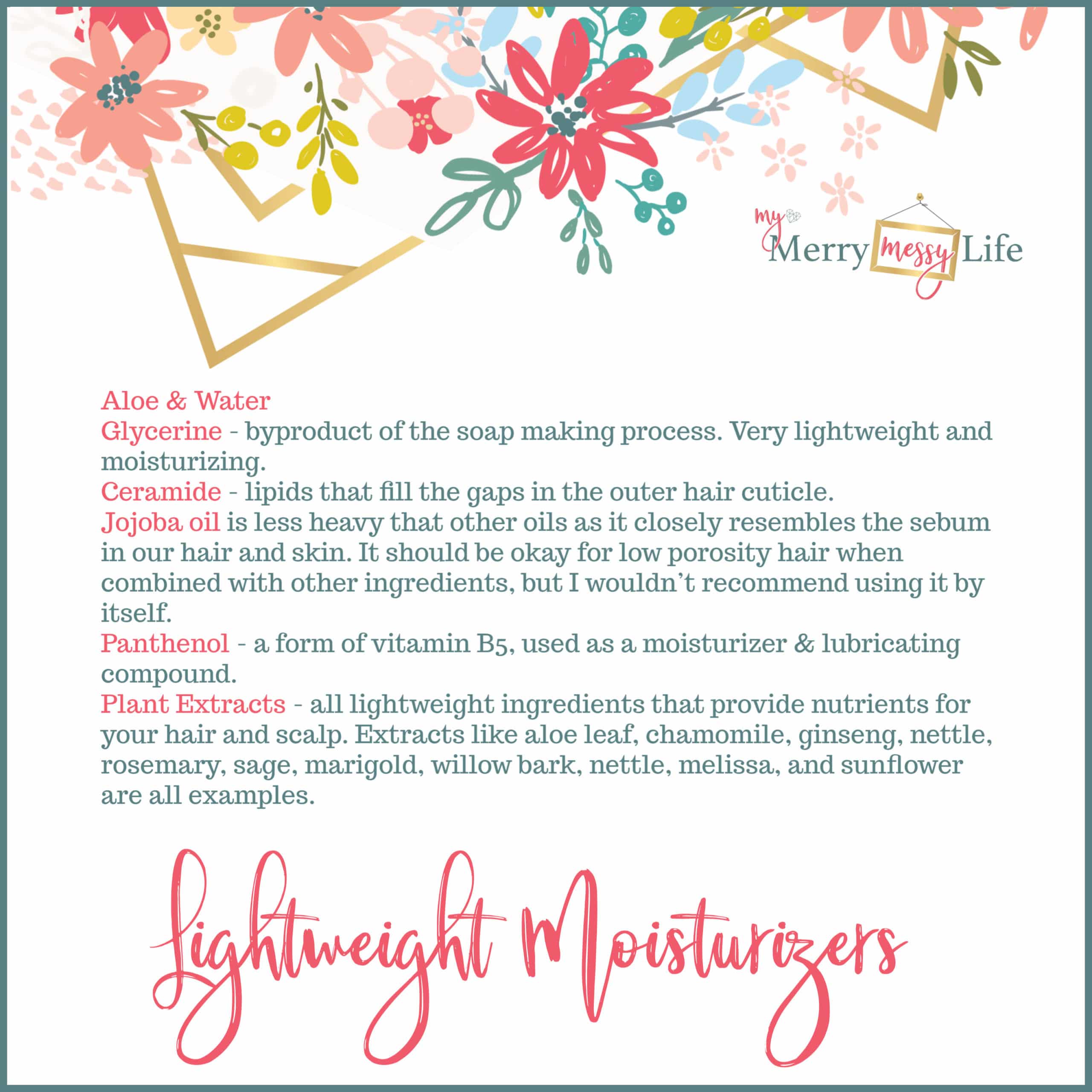 Lightweight Moisturizing Ingredients
Aloe
Water
Glycerine – byproduct of the soap making process. Very lightweight and moisturizing!
Ceramide – lipids that fill the gaps in the outer hair cuticle.
Jojoba Oil – is less heavy that other oils as it closely resembles the sebum in our hair and skin. It should be okay for low porosity hair when combined with other ingredients, but I wouldn't recommend using it by itself.
Panthenol – a form of vitamin B5, used as a moisturizer and lubricating compound

Synonyms – D-PANTOTHENYL ALCOHOL; DEXPANTHENOL; DL-PANTOTHENYL ALCOHOL; PANTHENOL , DL-FORM; PANTOTHENOL; PANTOTHENYL ALCOHOL; PROVITAMIN B5; (+-) -PANTOTHENYL ALCOHOL; ALCOOL DL-PANTOTENILICO (ITALIAN) ; DL-PANTOTHENYL ALCOHOL; PANTENOL

Plant Extracts – all lightweight ingredients that provide nutrients for your hair and scalp. Extracts like aloe leaf, chamomile, ginseng, nettle, rosemary, sage, marigold, willow bark, nettle, melissa, and sunflower are all examples.
Avocado Butter – a lighter-weight butter that has moisture sealing properties that help keep the hair softer for longer. Avocado butter is also a high-quality emollient that has antioxidant properties.
Murumuru Butter – a very light butter. It is rich in omegas, and it helps to soften the hair, promote elasticity, add shine, control frizz and define curls.
Protein Ingredients to Avoid if you have Low Porosity Hair:
In general, using products that contain protein in the first five ingredients everyday might be too much for your hair, but everyone is different! I would experiment with this and maybe have one or two of your washday products that contain protein. If you're unsure if your hair needs protein or has protein overload, check out my post on protein here.
Cocodimonium hydroxypropyl hydrolyzed casein
Cocodimonium hydroxypropyl hydrolyzed collagen
Cocodimonium hydroxypropyl hydrolyzed hair keratin
Cocodimonium hydroxypropyl hydrolyzed keratin
Cocodimonium hydroxypropyl hydrolyzed rice protein
Cocodimonium hydroxypropyl hydrolyzed silk
Cocodimonium hydroxypropyl hydrolyzed soy protein
Cocodimonium hydroxypropyl hydrolyzed wheat protein
Cocodimonium hydroxypropyl silk amino acids
Cocoyl hydrolyzed collagen
Cocoyl hydrolyzed keratin
Hydrolyzed keratin
Hydrolyzed oat flour
Hydrolyzed silk
Hydrolyzed silk protein
Hydrolyzed soy protein
Hydrolyzed wheat protein
Hydrolyzed wheat protein
Keratin
Potassium cocoyl hydrolyzed collagen
TEA-cocoyl hydrolyzed collagen
TEA-cocoyl hydrolyzed soy protein
Note – your hair might be fine with these ingredients in a deep conditioner or conditioner, however, because it gets rinsed out. And the combination of the oils and butters changes the chemistry of them and how they perform. So this might take some experimentation for you to see what your hair likes best! It'll be different even among those with low porosity hair because you might have fine hair, which needs different things that coarse hair.
Butters and Oils that Might Be Too Heavy if you Have Low Porosity Hair
Coconut Oil (this one is super heavy)
Butters – Shea butter, mango butter, murumuru butter
Oils – almond, grapeseed, fractionated coconut, olive, almond
Suggested Curly Hair Styling Products for Low Porosity Hair
Using lightweight products is key!
Suggested Hair Gels for Low Porosity Hair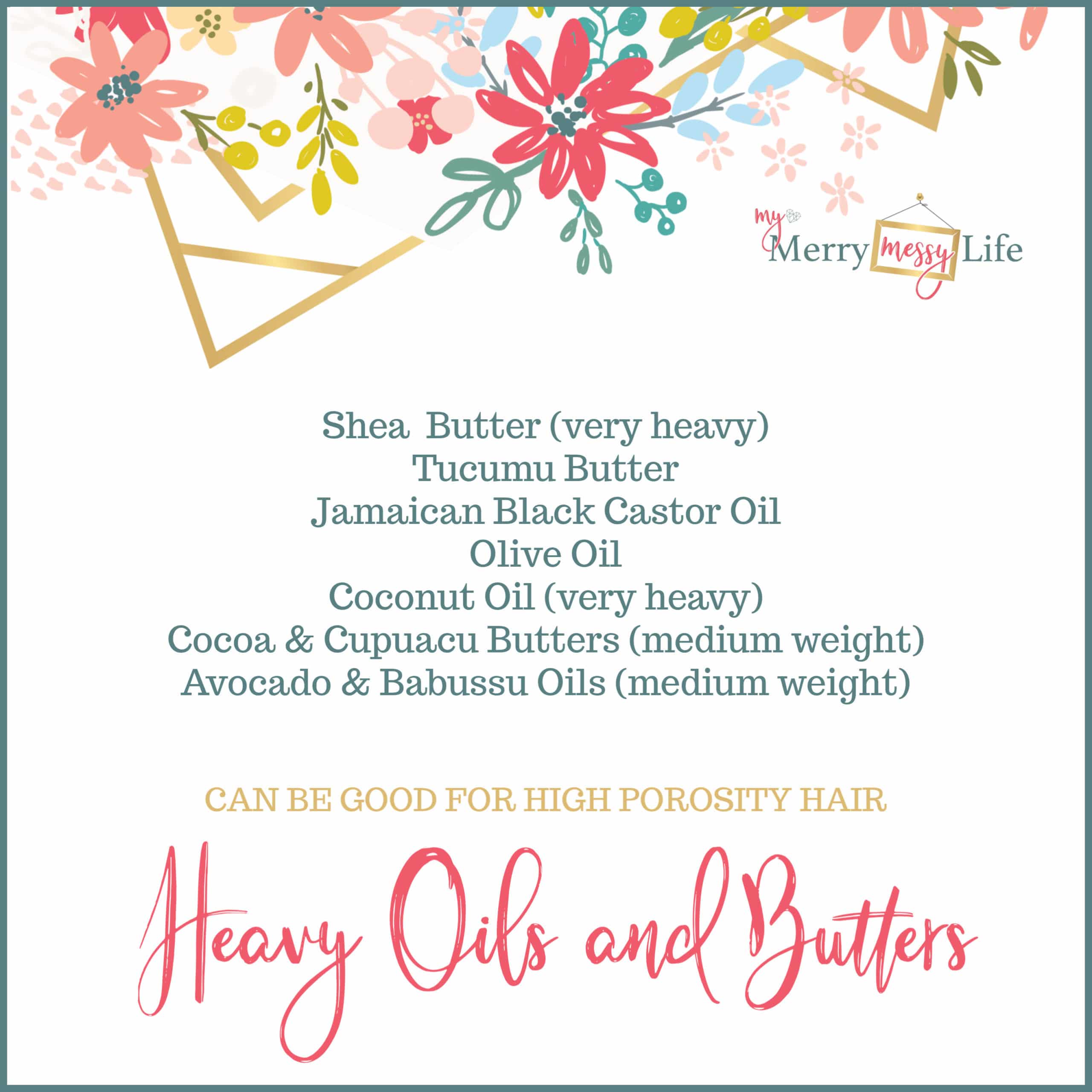 Curly Hair Styling Products for High Porosity Hair
High porosity hair needs a lot more moisture than low porosity hair and needs ingredients that seal the cuticle, since it is open and raised. Again, see my hair porosity article if you want to learn more about that.
So I suggest products that include more sealing ingredients – coconut oil, shea butter, cocoa butter, and liquid oils like almond, jojoba, grapeseed and olive.
I've found that I have not needed anything more than a good hair cream! It's a one-and-done styler for me. But if you want more shine and some more hold, try using a lightweight gel on top of it. If you need more moisture, I suggest using a leave-in underneath it. If you are struggling with moisture and feel your hair isn't holding it, I would suggest doing a protein treatment, which you can learn about here!
Curly Hair Styling Products that Include Protein for High Porosity Hair
High porosity hair likes protein, so I include them in every washday, whether that's in the shampoo, conditioner or stylers. I also do protein treatments every few months (read more about those here!) and I've found they keep the curls poppin' and reduce frizz.
Curly Hair Styling Cream Products for High Porosity Hair
Curly Hair Gels for High Porosity Hair
If you'd like some shine on top of the hair cream, I suggest the same gels as the ones for low porosity. They are ones I've tried and work really well! I've found I don't need much gel on top of the curl cream at all as the cream has a lot of hold on it's own. But I will use a gel for shine.