How to Know Your Hair Porosity
In this post, you'll learn how to discover your hair porosity, which helps especially for this with curly hair who are doing the curly girl method. As a curly girl myself, I've learned that understanding the porosity of my hair has made it much easier to know which hair products to use. You can have more success with your hair once this becomes clear and spend less money trying out different products!
What Does Hair Porosity Mean?
Hair porosity refers to the hair's ability to absorb and maintain moisture. There are three levels of porosity – low, medium and high. It refers to how the cuticle lays on the cortex. Porosity can be genetic, but it can also be caused by damage (like coloring, bleaching, straightening, curling, excessive styling and manipulation) and it can be somewhat reversed with protein treatments and bond repair treatments. I have been able to change my hair from super high porosity (very damaged) to more medium porosity in just a matter of months with the protein and bond repair treatments. Click on the links in the sentence above to learn more about them!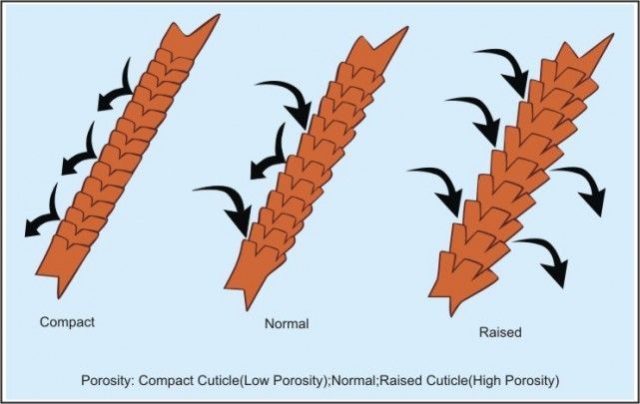 The Three Types
Low Porosity Hair
Low porosity hair has a cuticle that is smooth and very flat. Think of a smooth pipe. Water doesn't absorb well into this type of hair and usually sits on top. Products also do not absorb well into the hair and buildup happens quickly. It's usually more sensitive to protein (but could still benefit from a protein treatment from time to time).
Tips for Low Porosity Curlies:
Use Heat
Heat helps to open up the cuticle so that the hair cortex can absorb moisture. Use heat when deep conditioning (read my post on deep conditioning here) or conditioning by using a thermal heat cap or wear a shower cap in the shower so the conditioner can do its magic while you wash your body. The shower cap will act like a mini greenhouse to open up the cuticle!
Clarify Often
This going to be different for each person, but anywhere from once a week to twice a month is good for many low porosity curly girls. Here are some clarifying shampoos that are curly girl friendly:
Avoid Butters and Oils
Avoid products with heavy butters and oils – like Shea butter, coconut oil, grapeseed oil, almond oil, olive oil, fractionated coconut oil, etc. These ingredients will really weigh your hair down, making it limp and greasy.
Now, this is different when it comes to having these ingredients in shampoos and conditioners because often they have a different chemical structure when paired with other ingredients. I would especially avoid STYLING products with butters or oils in them. And in general, look for these ingredients in the first 5 of the list. After that, it's not going to be all that important.
Medium Porosity Hair
The cuticle in this hair is not as flat as low porosity, but is slightly raised so that water can penetrate the cortex easily. This is the easiest type of hair to have! It takes the least amount of maintenance. You'll know this is your type if your curls are elastic and bouncy (without much work). Your hair will easily accept and maintain moisture, and it can hold styles well and also hold color well. The hair does not need deep conditioning or protein as often as high porosity hair does.
High Porosity Hair
Curls often look and feel dry, they absorb water quickly, dry quickly, and often need more products. The cuticle is raised and the scales do not lay flat. It can be genetic or high porosity can be caused by chemical damage.
Tips for High Porosity Hair:
The hair needs products to seal in moisture – leave ins, creams, butters and oils will be your best friends!
Deep condition at least once a week
Do protein treatments every 4-6 weeks (see my post on that here)
Do bond repair treatments (see my post on that here)
Use minimal heat – air dry if at all possible! If not, make sure to diffuse your curls on low heat or cool heat. Another option is to dry your hair to 25% or 50% dry, then let it air dry, or do the opposite (air dry first, then finish with the diffuser).
Rinse with cool water to close the cuticle & seal in moisture.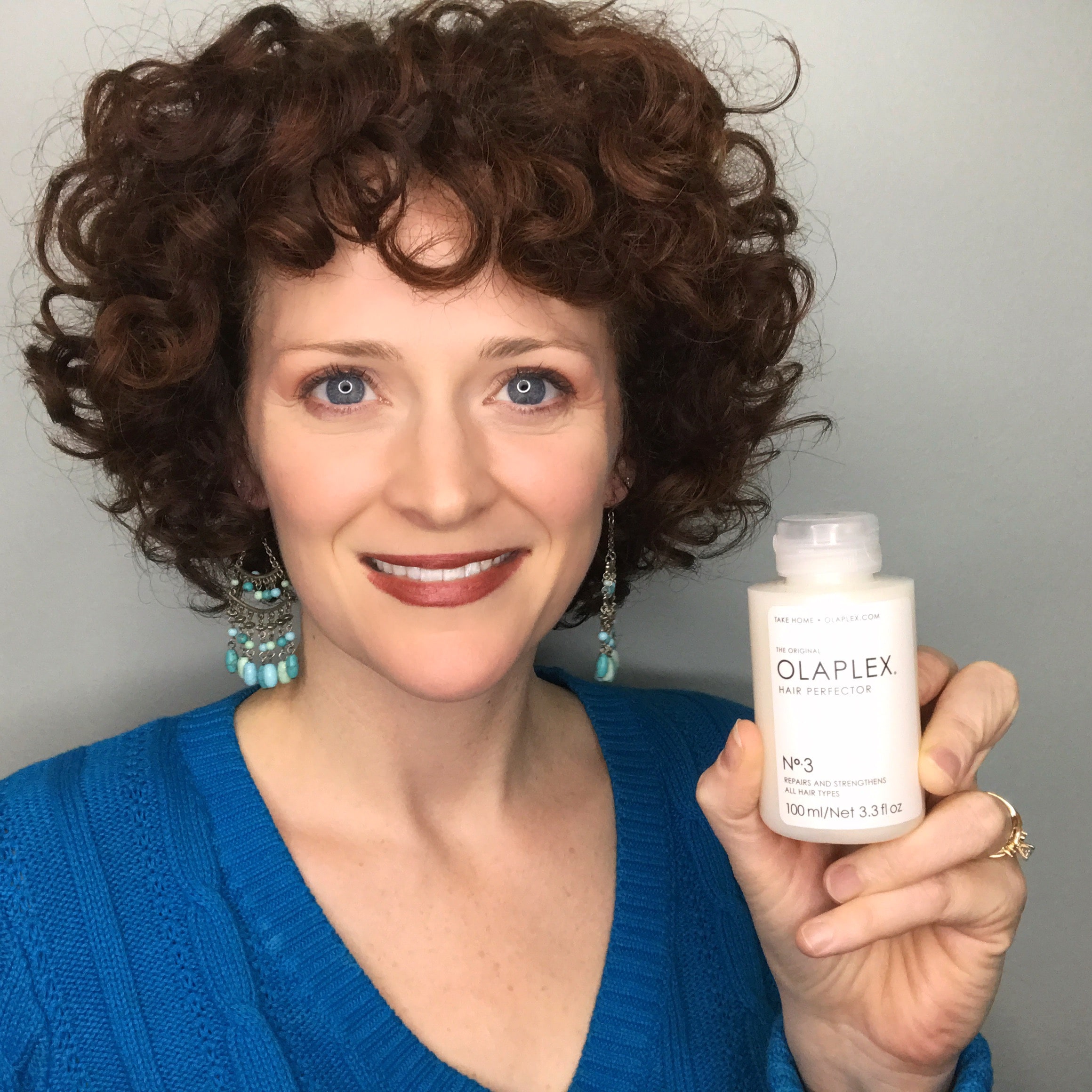 My Hair Porosity Discovery
I thought I had Low Porosity Hair at First…I was wrong!
When I first started the curly girl method, I thought for sure I had low porosity hair. I had very long hair that took 6 hours to dry and pretty much every leave in conditioner left my hair feeling heavy and icky. And my hair floated in the hair strand test, even with a washed, product-free strand!
But, I continued to find that my hair wasn't doing well with hair gels – the curl wouldn't last and I'd end up washing by day 3. My hair lost moisture within a day or two. This is partly due to the fact that my hair was still healing and getting stronger.
One day, I left deep conditioner in my hair and found that my hair loved it. This got me to thinking that my hair loves curl creams and not gels! I noticed that it looks dull, dry and frizzy easily. Hmm, sounding more and more like HP hair!
Now that I've discovered this, I use curl creams, deep condition one to two times a week, do regular protein and OlaPlex (bond repair treatments) and my hair is totally transforming into shinier, healthier curls.
Hair Porosity Strand Tests
There are several different types of strand tests and I've tried two of them. When I was first starting out, I don't think any of these test were accurate for me. I knew so little about hair and had so little experience with understanding porosity and which products are good for me. But I wanted to share them with you in case they help you and work for you!

Hair Porosity Floating Test
Take a strand of clean hair (no styling products on it, either) and put it in a cup of water. Break the water tension on top and see if the hair floats (low porosity), goes to more of the middle (medium), or sinks to the bottom (high porosity).
I've done this test three times. My hair stays on top every time, but I'm almost 100% sure that most of my hair is high porosity! I'll get to why I think that later. So, I feel like this test is pretty inaccurate.
Hair Porosity Strand Test
Gently stretch a strand of hair from different parts of your head – the canopy (crown), nape, in the middle. Run your fingers up and down it to see how it feels.
Low Porosity – it'll feel dense, hard, and smooth
Medium Porosity – it'll feel smooth
High Porosity – it'll feel rough, dry and might even break
Hair Porosity Water Test
Spray water on your dry hair with a spray bottle, or spray it on a section. Again, this works best if your hair is clean and and product-free.
Low Porosity – it'll bead and sit on top of the hair. You'll be able to see water droplets
Medium Porosity – absorbs some, less beading
High Porosity – absorbs quickly