Are you continually trying to "tame" your frizzy hair? Fighting it into submission? Help is on the way! Here's how to fix frizzy hair to reveal beautiful curls and waves, and it might not be what you think!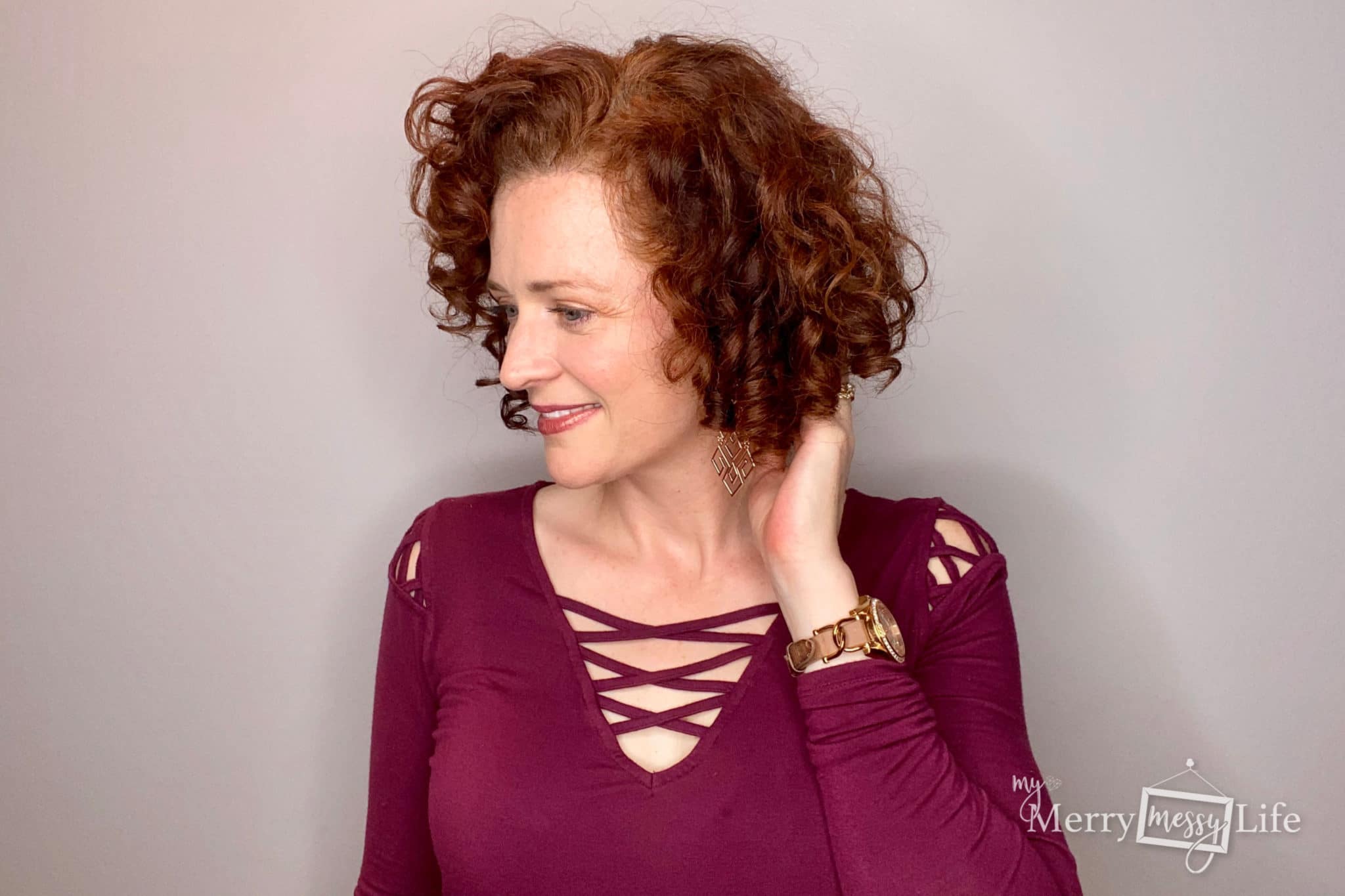 1. Do the Curly Girl Method
In order to learn how to fix frizzy hair, it's important to know learn that frizzy hair is usually hair that is textured – from wavy all the way to kinky curly,. It's usually not hair that's naturally completely straight. The best way I have found to embrace that texture and to love your hair the way it was made is to naturally is to follow the Curly Girl Method. If you're already following this method, then see the other steps I recommend.
The Curly Girl Method was started by a cosmetologist named Lorraine Massey. She transformed the way the hair industry treats curly hair and has helped millions of people learn how to properly take care of their curls. In general, here are the very basic tips:
Use a sulfate-free shampoo
Use a silicone-free conditioner
Use a silicone-free leave in conditioner
Use a gel
Deep condition regularly
Straighten your hair as little as possible (it causes severe damage to the hair)
See all of my Curly Girl Method friendly product recommendations here in my Amazon storefront!
2. How to Fix Frizzy Hair Even While Doing the Curly Girl Method
If you're already following the Curly Girl Method, you might find that your hair sometimes gets stuck in a rut and gets frizzy again. What I see from most women is they're quick to want to try new products to get out of a hair rut. Most of the time, changing products won't do much at all because the root of the problem is that the hair needs moisture, protein, bond repair or to be clarified, or a combo of some or all of those.
But, trust your own intuition on this – I had a feeling when I first started that my hair was high porosity and would do better with a hair cream instead of a light leave-in conditioner. I was right – my hair LOVES this shea butter-based hair cream from BrioGeo and it truly made a huge difference!
I found found from my own experience as well as from many other curly girls in the groups I'm in on Facebook, that if you've still got frizzy hair while using the Curly Girl Method, it's usually because of one or more of the following reasons.
1. Need to Clarify
Because we use sulfate-free shampoos, buildup can happen much more easily if we use any products that aren't water soluble. I use a hair cream that contains shea butter and coconut oil, so I found my hair does get build up more often. You can also get buildup from hard water. I have several posts just on clarifying that I recommend you read more about – DIY Clarifying Shampoo and Types of Clarifying Shampoos.
I clarify about twice a month, but each of us is different so test it out for yourself and see what you need to do. I almost always follow up with a deep conditioner, which we will talk about next!
My favorite clarifying shampoos are:
2. Need to Deep Condition
Frizzy hair is often very dried out hair. Curly hair is much drier than straight hair and needs a lot of water and moisturizing treatments in order for it to be hydrated and not frizzy.
To learn more, check out my post here all on deep conditioning and how I do it. I currently need to deep condition my hair with heat (helps it to penetrate into the hair shaft) once a week. At the beginning, when I first started the curly girl method, I did it twice a week!
3. Heal Damaged Hair with Protein Treatments
Our hair gets a lot of abuse with hair color, straightening, and blow drying. All three of those things break down the protein and di-sulfide bonds in the hair and are what cause hair loss, hair breakage, split ends and damaged hair.
You can restore the protein that was broken down through protein treatments! When I first start the Curly Girl Method, I did one protein treatment a week using Aphogee Two-Step Protein Treatment (but I only used the protein, not the conditioner as it contains silicones). Now I only use protein as needed by doing my homemade treatment. Sometimes that's once a month, sometimes it's once a week for 2-3 weeks, sometimes it's once every few months. Just depends on how my hair is doing at the time.
4. Need a Bond Repair Treatment
When we color and/or straighten our hair, it breaks down not only the protein molecules in the hair, but also the di-sulfide bonds. Both need to be restored when the hair is damaged. I have a in-depth post on using bond repair treatments here and how they work.
5. Product Usage and Application
You can get frizzy hair from applying too much product, or from not smoothing it over the hair. This is going to be different for each person. If your hair is thick and course, you'll probably need more hair product (that's me!) than someone who has fine hair. This can also depend on hair porosity, so check out my post here on how to figure out your hair porosity.
6. Tried All of the Above and STILL Have Frizzy Hair? Time to Change Some Products
In order to learn how to fix frizz hair, it can sometimes take a while to figure out which products are the right ones for your hair. For me, it truly did take some experimenting. There are MANY good brands out there – and I'm thankful for that! Here are my tips, for what they're worth ;):
First, see if you can figure out your hair porosity. There's a lot to this, so see my post on that here.
I suggest starting with your styling products as those seem to affect hair more than the shampoo and conditioner.
Many of the more expensive brands sell trial sizes so you don't have to waste a lot of product or money trying out different brands.
If you want to take it more slowly or spend less money, change out one product at a time. It can take several weeks to notice a difference, so this will take some patience!
If you have a DEVA stylist, ask their opinion!
Donate any products that don't work for you to friends, family, and even to women's shelters! That makes me feel much better since a good product doesn't go to waste.
Know that this isn't an exact science – it truly is a trial and error experience. If you can go with the flow of the journey of learning to listen to and love your textured hair, then you'll be MUCH happier during this experience!
Currently I'm using:
3. Attitude Check – Textured Hair is Not Completely Without Frizz
I've been doing the Curly Girl Method for two years now and I still have frizz EVERY SINGLE DAY. You can even see it here in the pictures I've put in this post – I purposeful didn't edit out the frizz because I want you to see what textured hair truly looks like. No photoshopping at all!
Do Not Fall for Our Culture's Hair Narrative
A big part of learning how to fix frizzy hair is to also learn to embrace what the good Lord gave you. Stop fighting your natural texture! Learn to LISTEN to it. Stop trying to force it into submission. Your hair is not less beautiful because it isn't straight, silky and smooth. You just need to learn how to properly care for it. For some reason, our cultures have fed us a LIE that smooth, straight hair is better. Be brave, be courageous and say NO to that narrative. You have the power to change that narrative and show yourself and the world that curly hair is sexy, vibrant, exciting, and artistic!
Have a Good Relationship with Your Hair
See this as a relationship – over time, you'll get to know your hair better and be able to understand what it needs just by feel. This will take time! It won't happen overnight. Be patient and trust the process, because I promise you – it's WORTH IT to have hair that you love, that you're proud of, and that's truly your own natural hair. It's very empowering and freeing!
Curly hair is a work of art! It's a sculpture. It isn't perfect, but nothing in life is!
Did this post help you learn how to fix frizzy hair? Drop me a comment if you have any questions or want personalized help with your curls!