Top 4 Tips for Curly Hair Volume
Here are my top four tips for big curly hair volume – use root clips, different ways to diffuse (upside down or side to side), wash and style upside down, and more! With just a few tweaks and little time, you can also achieve more voluminous curls.
I Used to Be Scared of Volume!
Volume is something I used to be scared of and would do anything to make my hair flatter! Once I found the curly hair community on Instagram and created my own account (see it here – @mymerrymessycurls), I learned to love volume and even embrace it! Now I embrace my curly hair's natural big volume and do more to style it so it can be big.
1. Wash & Condition Upside Down
If you aren't able to style or diffuse upside down, try washing and conditioning upside down so that the hair roots are pulled away from your head. However, I don't think this is necessary if you can style or diffuse upside down.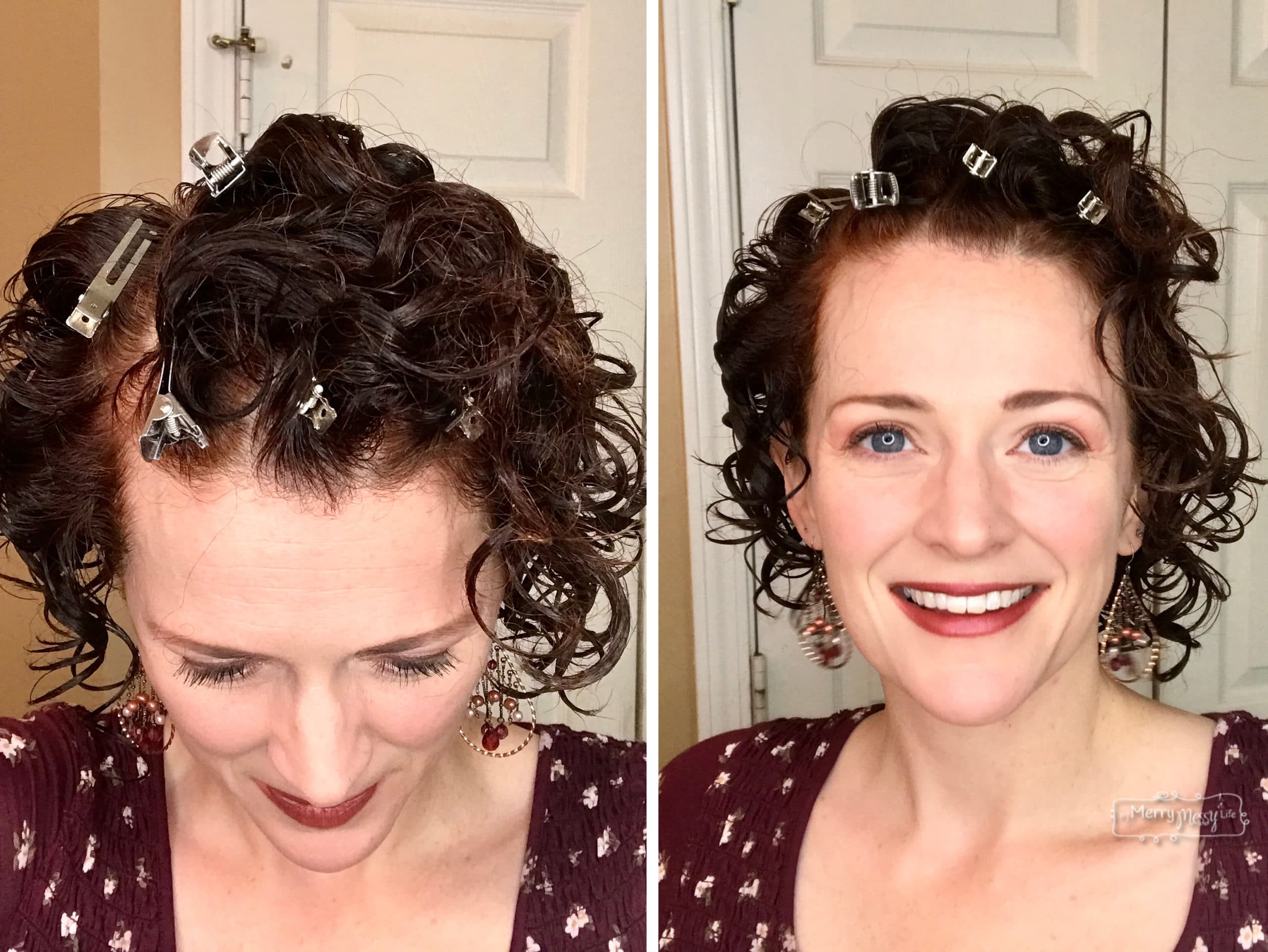 2. Use Root Clips
The most important of the curly hair tips is to put in root clips before you dry. These lift the roots away from your scalp and really do help with volume! Get root clips here.
You could also use these roller jaw clamps from Curly Hair Solutions for root lift and I find you can lift a lot more hair at once with these AND they are more comfortable in the hair than root clips!
3. Style Upside Down
When I apply my stylers after washing and conditioning, I first apply them by raking them in with my fingers or with a brush designed for curly hair (like a Denman Brush or Wet Brush) right-side up so I can get all of my most frizzy, trouble spots covered with product. The special brushes I mentioned help to create beautiful curl clumps, also!
Then I flip my hair upside down and rake again to pull my roots away from my scalp. Then, I scrunch and scrunch and scrunch to really help with curl clumping and to boost my curl pattern. Scrunching helps my looser curl pattern really pop! If you've got coily or kinky hair, scrunching probably isn't all that helpful for you because your curl pattern is already so fabulous!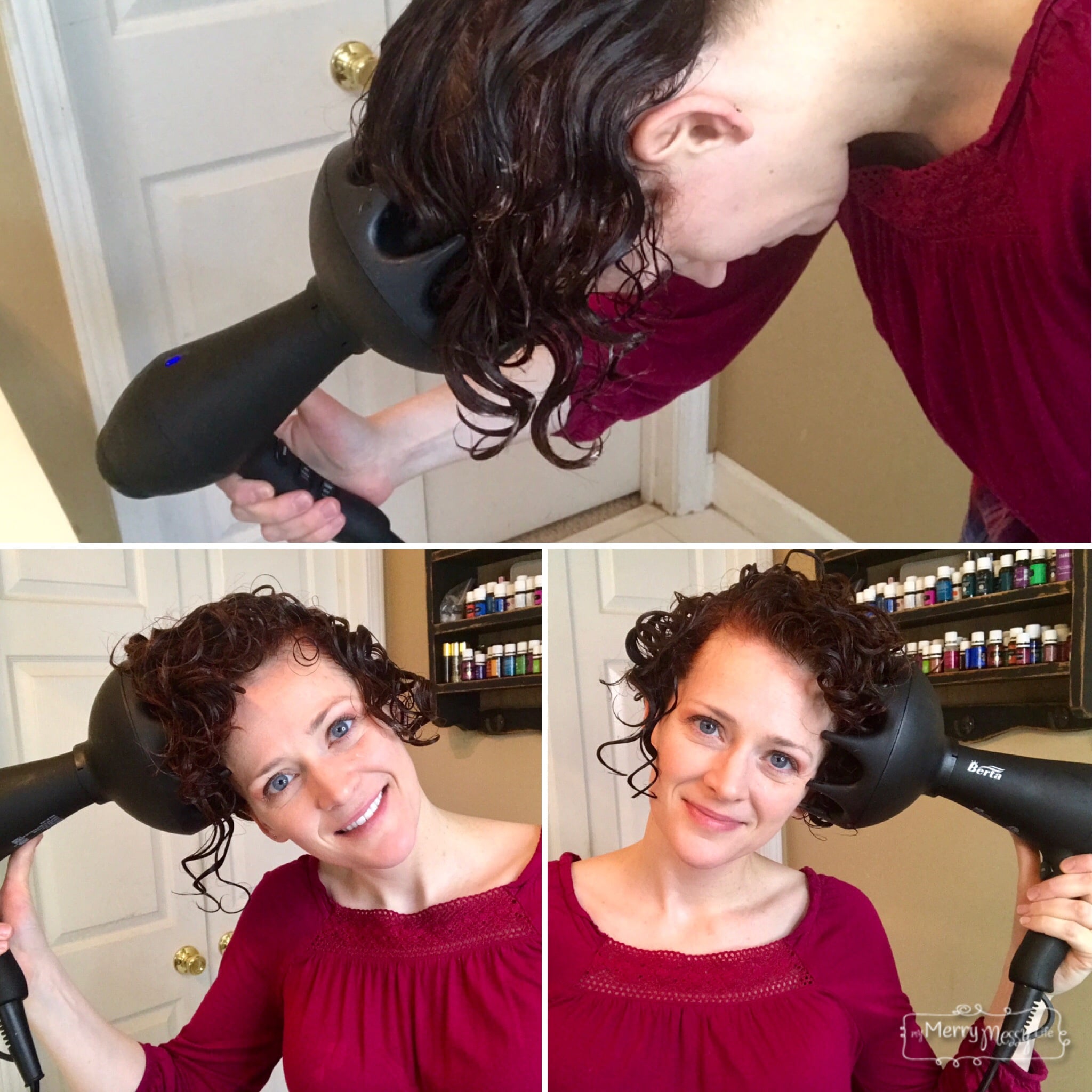 4. Diffuse Upside Down or Side to Side
This is one of the biggest big curly hair tips too! Diffusing upside down helps to pull your hair away from the roots. Let gravity do its work!
Now for me, I have a lot of hair and drying can take 30 mins to an hour. Bending over that long can really strain my back! So I start with a portable hooded hair dryer first, drying for 15-20 mins while sitting down. Hands-free drying, my friends! I will surf Instagram, Facebook, type a blog post, or even read a book. It's amazing!
However, it doesn't help much with volume. So I switch to the diffuser for the last 10 minutes so I can get amazing volume coming from the roots.
I find this method of drying to be much less tedious and more enjoyable, and I still get the results I want. Win-win!
Other Tips
Pik Comb
Use a pik comb to fluff (get on Amazon here) out your hair from the roots. This is super easy and takes on a few minutes.
Break the Gel Cast
If you're using a gel and get a hard cast (crunchy), then make sure to break the cast for more volume. It'll give you soft, defined curls for days!
Have Lots of Layers
Get a haircut with lots of layers – layers give you volume without much work! And you can still keep you length when you get layers put in and they help to give your hair a beautiful shape. See my post on getting a DevaCut from a trained curly hair stylist here!
Let Your Hair Dry Parted to One Side and Flip It
While you're diffusing or air drying your hair, part it to one side. Once it's done drying, or part way through, flip it to the other side. Instant volume!
Have Thinner Hair?
Those with less hair (low density) and fine hair aren't going to get as much volume as those with thick hair and high density. So the last of my curly hair tips for you is to be aware of your mindset. It is OKAY to not have big volume. Embrace what you do have! If getting volume is hard for you, how about embracing definition, shine, and your curl pattern? Embrace your hair's own unique strengths and let the other things go. Volume isn't everything, it's more about loving the hair you have and knowing how to take good care of it.
New to Curly Hair Care?
Looking for more curly hair tips? I follow the Curly Girl Method, created by Lorraine Massey. I don't follow every single rule, but I follow the biggies like no sulfates, no silicones, regular deep conditioning, and a few more things. Make sure to read my post on the method here!