Get Your Home in Shape with Flylady 31 Baby Steps
Day 29 – Write Down Self Care Ideas
What were some of the pamper ideas you wrote down yesterday? Can't wait to hear them!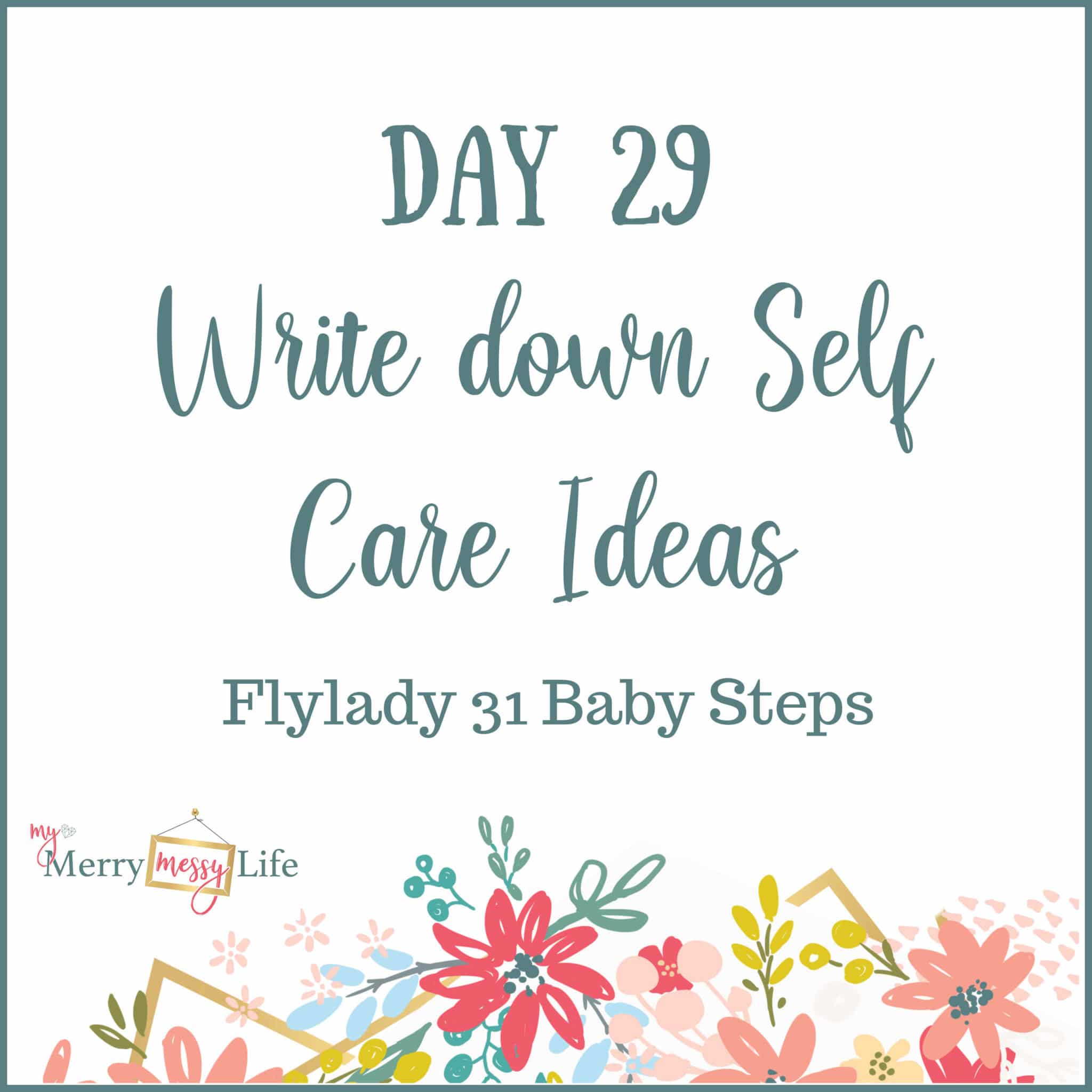 Let's review our daily habits! How are they going for you? Remember, this about progress not perfection, so no beating yourself up or allowing shame to creep in. Just do your best, and some days, that may only look like getting out of bed and getting dressed.
Morning Routine
Make your bed
Get dressed to shoes
Check your daily routines in your home management binder
Check your email for the next baby step – done!
Become aware of a few of your negative thoughts and replace them with positive ones
Hot Spot – set your timer for two minutes to tackle one hot spot
Room Rescue – set your timer for five minutes to do a room rescue
Clean – set your timer for 15 minutes and clean (or declutter) one area
Do a quick swish and swipe in your main bathroom
Make a plan for tonight's dinner
Start a load of laundry
Afternoon Routine
Eat lunch and drink your water
Take a few minutes to relax
Start Dinner
Evening Routine
Shine the kitchen sink
Finish the load of laundry
Plan your outfit for the next day at bedtime
Set your timer for two minutes to tackle one hot spot
Look at your home management binder checklists for tomorrow
Go to bed at a good time!
Today start a new page in your control journal for "Self Care" or pampering ideas. Us mamas can get so depleted that we forget what we even enjoy or like to do anymore! So today you're going to spend 15 minutes writing down things that relax you, make you happy, are FUN, and make you feel beautiful! Then each week, you can add one or two of these self care ideas to your weekly schedule!
Click below for the next day of the Flylady 31 Baby Steps – where it says Pages 1 2 3 4, etc.