Get Your Home in Shape with Flylady 31 Baby Steps
Day 31 – Congratulations! You did it!
Congratulations!! YOU DID IT! You made it to the end! Now we will start to learn how to clean our homes by zones (Zone Cleaning), do weekly meal planning, do a weekly home blessing hour, and create a focus for each day (Daily Focus). These are such fun parts of the system for me, so stay tuned – tomorrow you will get an email about creating a daily focus and how helpful that can be!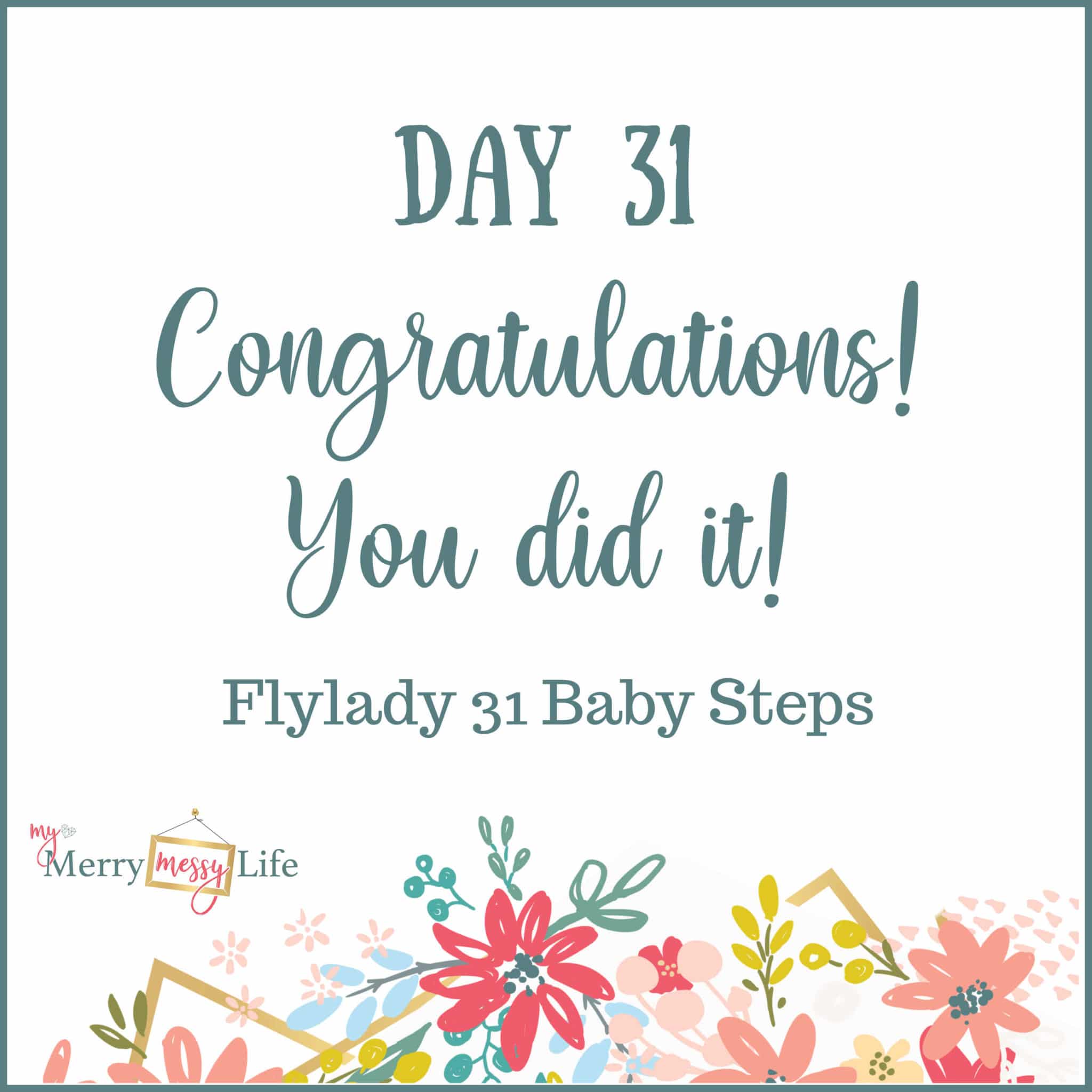 Let's review our daily habits! Which ones are you regularly doing?
Morning Routine
Make your bed
Get dressed to shoes, hair, face
Check your daily routines in your home management binder
Check your email for the next baby step – done!
Become aware of a few of your negative thoughts and replace them with positive ones
Hot Spot – set your timer for two minutes to tackle one hot spot
Room Rescue – set your timer for five minutes to do a room rescue
Clean – set your timer for 15 minutes and clean (or declutter) one area
Do a quick swish and swipe in your main bathroom
Make a plan for tonight's dinner
Start a load of laundry
Afternoon Routine
Eat lunch and drink your water
Take a few minutes to relax
Start Dinner
Evening Routine
Shine the kitchen sink
Finish the load of laundry
Plan your outfit for the next day at bedtime
Set your timer for two minutes to tackle one hot spot
Look at your home management binder checklists for tomorrow
Go to bed at a good time!
Listen to today's task on my podcast, The Merry Messy Moms Show!